EFCC Recruitment: Here, we have compiled all needed information for the Economic and Financial Crimes Commission Recruitment 2022, Application form, registration portal www.efccnigeria.org, guidelines on how to apply and every details about EFCC Recruitment which you need to know.
In the course of this article, we have also tried to answer some basic questions like the requirements, salary structure, the closing date, how to get the EFCC Recruitment application form, the shortlist, the recruitment exams, the EFCC recruitment www efccnigeria org portal, etc. Just relax and read on.
Note: EFCC recruitment application is free. Ensure you take note of this if you wish to apply for any job vacancy in Economic and Financial Crimes Commission (EFCC). Application form is obtainable online on the recruitment portal of EFCC www.efccnigeria.org.
About The EFCC
The Economic and Financial Crimes Commission is a Nigerian law enforcement agency that investigates financial crimes such as advance fee fraud and money laundering.
The Economic and Financial Crimes Commission (EFCC) has clearly stated on the portal www.efccnigeria.org that recruitment into the agency is transparent and completely free of charge to apply.
This means that as long as you have the needed credentials, you should be eligible to participate in the recruitment exercise.
EFCC Recruitment Application Form
Candidates who wish to apply for the recruitment are to fill and submit the online only at the Economic and Finance Crimes Commission official website via www.efccnigeria.org.
The Economic and Finance Crimes Commission registration form is free of charge. Do not pay money to anyone in exchange for the registration form. The form is available on the www.efccnigeria.org/efcc/careers/
EFCC Recruitment Requirements 
Candidate must be a Nigerian by birth
Candidate must not be less than 1.7 meters in height, for males and 1.64 meters for females.
Candidate must have a fully expanded chest measurement of not less than 0.87 meters, male
Candidate must be medically fit and must have a certified medical report from any government hospitals
Candidate must not be suffering from any physical or mental disabilities
Candidate must possess the WASSCE certificate with not less than 5 credit pass in the core subjects including mathematics and English language in not more than 2 sittings
Applicants with higher degrees such as OND, HND, BSC etc can also apply
| | |
| --- | --- |
| Nationality | Nigerian |
| Minimum Age | 18 |
| Maximum Age | 35 |
| Minimum Height | 1.62 |
| Mode of Identification | National ID, International Passport etc. |
| Academic Qualifications | WASSCE/NECO/GCE/NABTEB or Higher Degree |
How to Apply For EFCC Recruitment 
To successfully apply for this recruitment, login to www.efccnigeria.org and fill the application form and also make sure you check this webpage for further instructions and updates regarding the status of your application.
EFCC has directed that all Zonal Heads should reach out to states under their jurisdiction to source for eligible candidates.
The Number of candidates required per Attached here with is a list of States under your jurisdiction and template to be used for inputting details of candidates per state and per cadre for ease of reference.
You are therefore requested to forward the CVs, Credentials of eligible candidates to the undersigned while the soft copy of the inputted details of candidates should be forwarded to hr@efccnigeria.org in Microsoft Excel Format.
OR
Applicants are to visit their respective EFCC Zonal Headquarters in their respective states or residence or closes to you for application form, CV, Qualifications and submission of form requirements.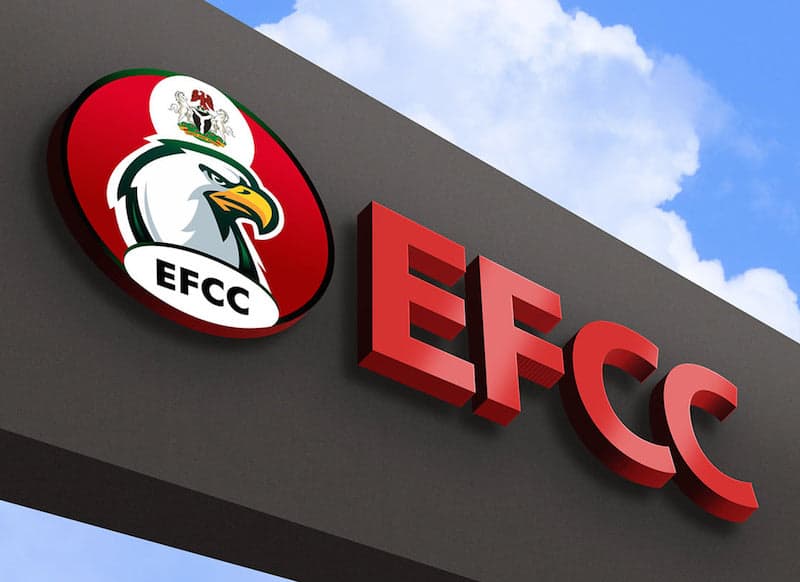 FAQ On EFCC Recruitment
Here are some frequently asked questions on EFCC Recruitment.
Is EFCC recruitment form out?
Currently, EFCC 2022 recruitment form will soon be available and recruitment will begin.
Is EFCC currently recruiting?
The Economic and Financial Crimes Commission recruitment is currently ongoing. This article will provide information on EFCC recruitment portal (www.efccnigeria.org), how to apply for EFCC 2019 recruitment form and other related information to help you get the job.
What are the requirements to join EFCC?
All interested candidates must reside in Nigeria with a valid means of identification, e.g. International Passport, Voters ID-Card, National ID-card or Drivers License. Possession of B.Sc., HND, NCE, OND with the applied position from a recognized institution.
EFCC Recruitment Closing Date
Closing date too has not yet been announced as the time of publishing this article.
Although we have highlighted some frequently asked question above, if you still have any question on EFCC Recruitment 2022, don't hesitate to comment below and we would do well to answer it.
Also, don't forget to share this article using the share buttons below.