Npower Acceptance Letter: Candidates whose names are on the deployment list are expected to upload their acceptance letters on the portal. Here we will show you the sample format of the Npower Acceptance letter and how to upload it on the portal.
Earlier, you were asked to print out your PPA Letter, now Npower requires all deployed candidates to upload an acceptance letter on the NASIMS portal to enable them to proceed to the next stage of the recruitment exercise.
It is very easy to upload the Npower acceptance letter for Npower batch c stream 1 and stream 2, all you need to do is to follow every step published on this site and you will be able to do that very easily.
Make sure you read through the entire article if you intend to upload your acceptance letter easily on the Npower website.
WWW NPower Gov NG Login Portal
What is Npower Acceptance Letter?
Npower's acceptance letter is the letter you received from Npower in your email regarding your deployment. Batch c N-Power candidates are expected to upload this letter on the portal immediately.
How can you do that, don't worry we have a solution for you.
Firstly, please take note that uploading this letter on the portal is very important. Failure to do this might hamper your chances of completing your deployment process successfully which is very necessary for the Npower program.
How to Upload Npower Acceptance Letter
The Npower acceptance letter is very necessary if you want to be receiving your monthly stipends from Npower. Upload the letter on nasims.gov.ng and then you report to your place of posting within 3 days once you have received your letter.
You will also need to provide this letter to your supervisor for it to be signed and that should be within three days of your posting as well.
Log in to www.nasims.gov.ng
Go to deployment, then
Download the letter
Print it
Re-upload on the portal.
The Npower letter of acceptance will be screened by your supervisor and even your credentials will also be checked. If you have accepted or rejected the offer, you have ticked the respective box in your acceptance letter before you upload it again on the portal.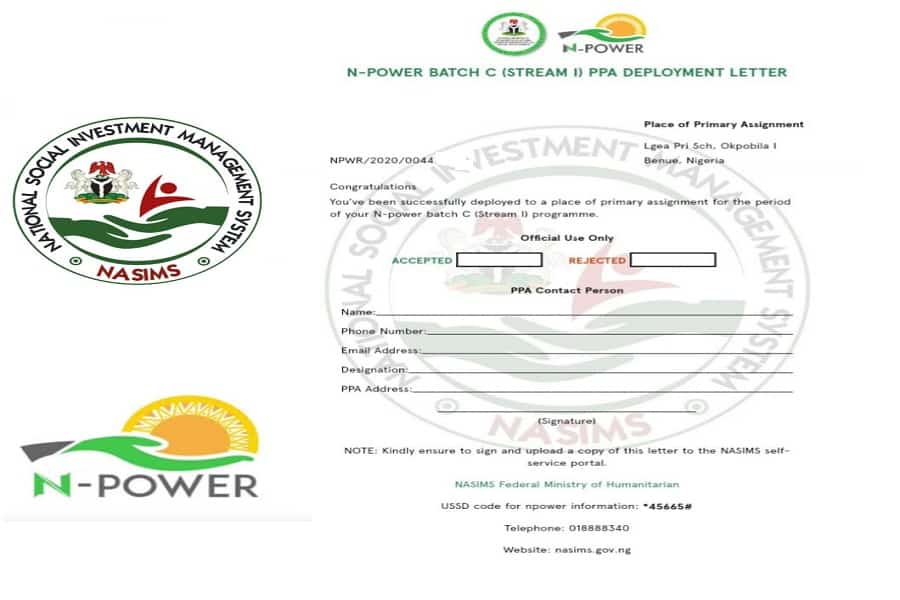 FAQ On Npower Acceptance Letter
Here are some frequently asked questions on Npower Acceptance Letter.
How do I get my Npower acceptance letter?
Simply log in to www.nasims.gov.ng and go to deployment, then download the letter, print it, and then re-upload on the portal. The Npower letter of acceptance will be screened by your supervisor and even your credentials will also be checked.
What is the easiest way to download Npower deployment letter?
Login to NASIMS portal www.nasims.gov.ng.
Enter your email address and password and click on Login.
Click on Npower PPA Letter.
Save the webpage with your letter.
Click on Print.
Your letter will be printed from Npower.
Why can't I download my Npower PPA letter?
Npower PPA letter not downloading?
The most common cause of this issue is browser incompatibility.
Download brave browser, Login to the portal, Change your overview from the Options Menu to 'Desktop site', Continue clicking on the download button till you have a good result, that's all
How do I redeploy in NPower batch C?
Print your PPA posting letter from your dashboard.
Take the letter to your deployed PPA.
Ask your supervisor to tick the REJECT box and sign.
Go to the PPA you want to redeploy to and collect an acceptance letter from them.
Although we have highlighted some frequently asked questions above, if you still have any questions on Npower Acceptance Letter, don't hesitate to comment below and we would do well to answer them.
Also, don't forget to share this article using the share buttons below.