We bring you an easier guide on Air Peace booking—their price list, routes, price list, etc.
Air peace airline is one of the newest airlines in Nigeria but has grown in popularity with its good customer care service and very affordable price. They also go a long way in guaranteeing satisfaction to their customers across the globe.
The air peace booking allows you to book a flight to different locations online and also check in online. Continue reading to get the full guide.
About Air Peace
Air Peace was founded in the year 2013. It is a Nigerian airline, which offers both scheduled passenger and charter services just according to your needs.
Air Peace mainly flies within the Nigerian environs. But also offers a few International services to different places in Africa.
They have a long-term goal to expand their route network to fly to more destinations within Nigeria, as well as major cities internationally. Air Peace Airlines has stated that along with giving Nigeria better connectivity across the world, one of the primary ideas behind the origin of Air Peace is to generate more jobs for people in Nigeria.
Also note that some shorter regional flight routes are performed by the airline's subordinate, Air Peace Hopper, which was established in the year 2018.
Air Peace Route/Destinations
Before having Air Peace booking in mind, you should first know the different locations and routes they fly to.
Air Peace flies to numerous cities in Nigeria, several West African destinations, and the Middle East, within countries including the Gambia, Ghana, Liberia, Senegal, Sierra Leone, and the United Arab Emirates. Altogether, as of 2021, the airline has more than 20 destinations within its route network.
International Routes
| COUNTRY | CITY | AIRPORT | IATA CODE |
| --- | --- | --- | --- |
| Gambia | Banjul | Banjul International Airport | BJL |
| Ghana | Accra | Kotoka International Airport | ACC |
| Liberia | Monrovia | Roberts International Airport | ROB |
| Senegal | Dakar | Blaise Diagne International Airport | DSS |
| Sierra Leone | Freetown | Lungi International Airport | FNA |
| United Arab Emirates | Sharjah | Sharjah International Airport | SHJ |
READ ALSO: God Is Good Motors Nigeria
Routes Within Nigeria
Air peace airline travels to these different locations within Nigeria
| CITY | AIRPORT | IATA CODE |
| --- | --- | --- |
| Abuja | Nnamdi Azikiwe International Airport | ABV |
| Akure | Akure Airport | AKR |
| Asaba | Asaba International Airport | ABB |
| Benin | Benin Airport | BNI |
| Calabar | Margaret Ekpo International Airport | CBQ |
| Enugu | Akanu Ibiam International Airport | ENU |
| Lagos | Murtala Muhammed International Airport (Hub) | LOS |
| Kaduna | Kaduna International Airport | KAD |
| Kano | Mallam Aminu Kano International Airport | KAN |
| Owerri | Sam Mbakwe Airport | QOW |
| Port Harcourt | Port Harcourt International Airport | PHC |
| Uyo | Akwa Ibom Airport | QUO |
| Warri | Osubi Airport | QRW |
| Yola | Yola Airport | YOL |
Air Peace Booking Baggage
The air peace booking baggage is in two forms checked baggage and the carry-on baggage
It is the luggage in compliance with the airline baggage regulations and delivered to the airline during check-in to be stored in an inaccessible area to the passenger during the flight.
Remember we told you this will be a detailed guide on Air Peace booking. Also, do well to confirm this during your booking.
ECONOMY
BUSINESS
EXCESS FEES
Domestic
20kg
40kg
$1.38 per kilogram
Regional
30kg
40kg
$3 per kilogram
International
23kg (two pieces allowed)
32kg (two pieces allowed)
$100 per bag
The Carry- on Baggage
This is considered any piece of luggage that you can carry on to in your carry-on bag. These include one small hand, laptop, or purse in addition to their carry-on allowance.
There are some others too
ECONOMY
BUSINESS
Domestic
1 piece weighing 6kg max and 45x33x20 cm in dimensions
1 piece weighing 10kg max and 45x33x20 cm in dimensions
Regional
1 piece weighing 6kg max and 45x33x20 cm in dimensions
1 piece weighing 10kg max and 45x33x20 cm in dimensions
International
1 piece weighing 7kg max and 45x33x20 cm in dimensions
1 piece weighing 14kg max and 45x33x20 cm in dimensions
Air Peace Booking Class
The airline provides two main classes. Feel to choose either of them while booking your flight.
Economy class
Business-class
Economy Class
Economy class procures passengers with comfort at a great price. The airline is a full-service conveyance, meaning that benefits such as baggage allowance are included in the price of the ticket.
Flying in this class is comfy yet modest; there is everything you will need to have an enjoyable flight ranging from comfortable seats to extraordinary service. Ample seating, with plenty of personal space, adjustable lighting, and fold-down trays. You also have an in-flight magazine at your disposal.
Business Class
These have all the qualities of the economic class and a lot more.
The inflight experience includes a meal. Enjoy comfortable seating with extra space. In-flight entertainment depends on the flight route.
Air Peace Booking Offices
Air Peace head office: 25, Sabo Arobiodu Street, GRA Ikeja
Phone: Head office (8 am – 5 pm Mon- Fri) +234-814-040-9808
Inquiries: info@flyairpeace.com
Abuja Office: Transcrop Hilton Branch, Maitama, Abuja FCT.
Port Harcourt Office: 55B, Old Aba Road, behind SHANDEES Rumuobiakani, Port Harcourt.
Owerri Office: Full moon hotel, Akanchawa Road, New Owerri, Owerri.
Enugu Office: Neocourts Hotel, #3/5 Byron Onyeama close, off Chime Avenue, New Haven, Enugu.
Air Peace Online Booking
Air peace booking online is very easy, just follow the detailed steps to get it done
Access www.flyairpeace.com with any internet-enabled device.
Access the 'Book A Flight' area and input your travel details like From and To date then click on 'continue'
Indicate if it is a round trip or one way and also input the necessary details.
Click on 'Search Again'and the flight availability details will display as seen. Choose the date you want.
Move forward to the next page.
Input your private passenger information correctly before proceeding to payment.
Scroll down to Input your card details and pay for your flight ticket using your issued Nigerian debit/credit card.
If the transaction is successful, your e-ticket will be sent to you via email.
You have successfully booked yours for Air Peace Flight Online.
Air Peace Booking APP
Can you imagine that? Air Peace booking continues to improve every day you can now download their mobile app. Simply go to the play store if you are using Android or the Apple Store for iPhone.
Here is a sample of what the APP looks like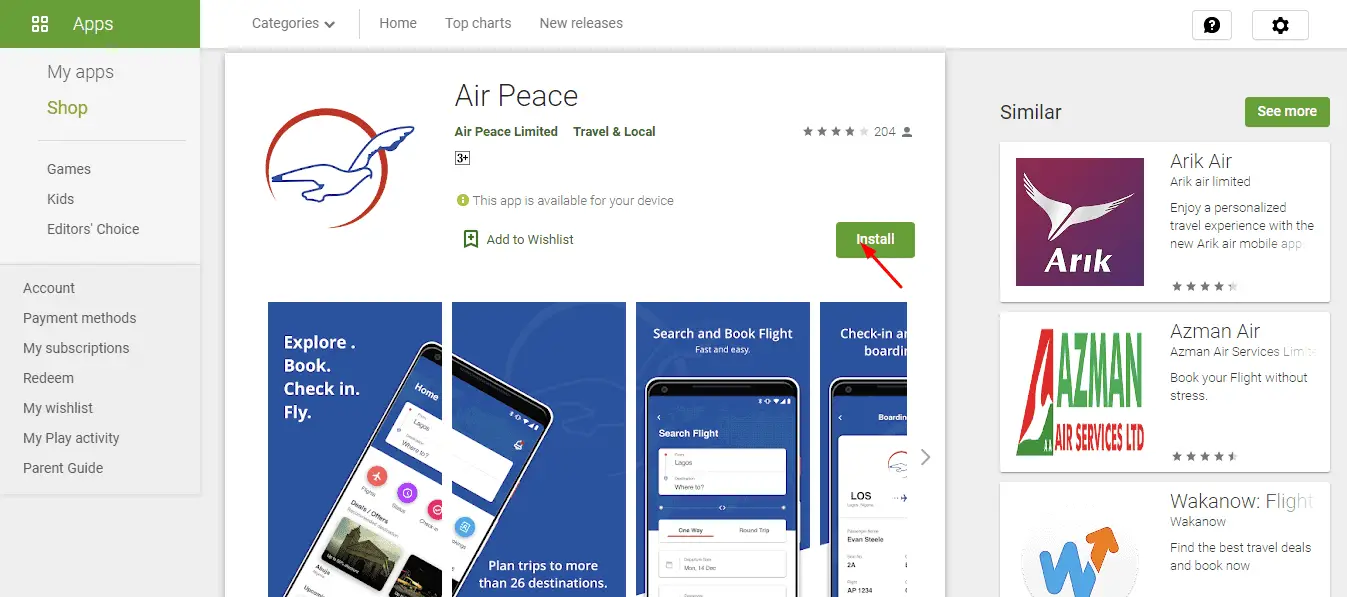 Install and book flights easily with your smartphone.
Air Peace Cancellation And Reimbursement
If you are willing to cancel your Air Peace Airline flight then before proceeding it is recommended to get information about Air Peace Airline cancellation policy.
Paying attention to customers' needs air peace introduces a 24-hour cancellation policy.
As per this 24-hour policy, customers can cancel their flight if they wish to within 24 hours before the departure of their flight.
Air Peace Airline will give a complete refund of your ticket cost in case the booking was made a week or more before the parting date of your Air Peace Airline flight.
The refund after the cancellation takes up to 7 – 10 working days to be granted.
If the flight was canceled 24 hours after booking be sure to receive a total refund if it is the refundable you booked. But if it is nonrefundable be sure to be charged $100 – $500 and the remaining balance will be sent across to you.
Air Peace Booking Price List
Air peace booking price differs. It varies due to different routes, seasons of booking, etc. You can only know the exact amount if you book your flight now.
READ ALSO: Peace Mass Booking Pricelist
We have given you a detailed guide on Air Peace booking, booking offices, Apps, etc. Let us know your thoughts and questions in the comment section, and feel free to share.