In my experience, the best day of the week to resign from your job is very crucial. You need to know the best time to tell your boss you are leaving because it is the right thing to do.
It will help you reduce potential awkwardness and break in your relationship with your boss.
Even though you are leaving an old job for a better one you still need to inform your boss at the appropriate time.
So what is the best day of the week to resign from your job?  What day of the week is best to give your notice?
In this article, I have given answers to the aforementioned questions and why.  Also, I have given insight on how to handle your resignation professionally.
How To Resign From Your Job
It can be difficult just having the thought of resigning from your job. Maybe because of your colleagues that you will miss, the hospitality, or the exceptional learning experience.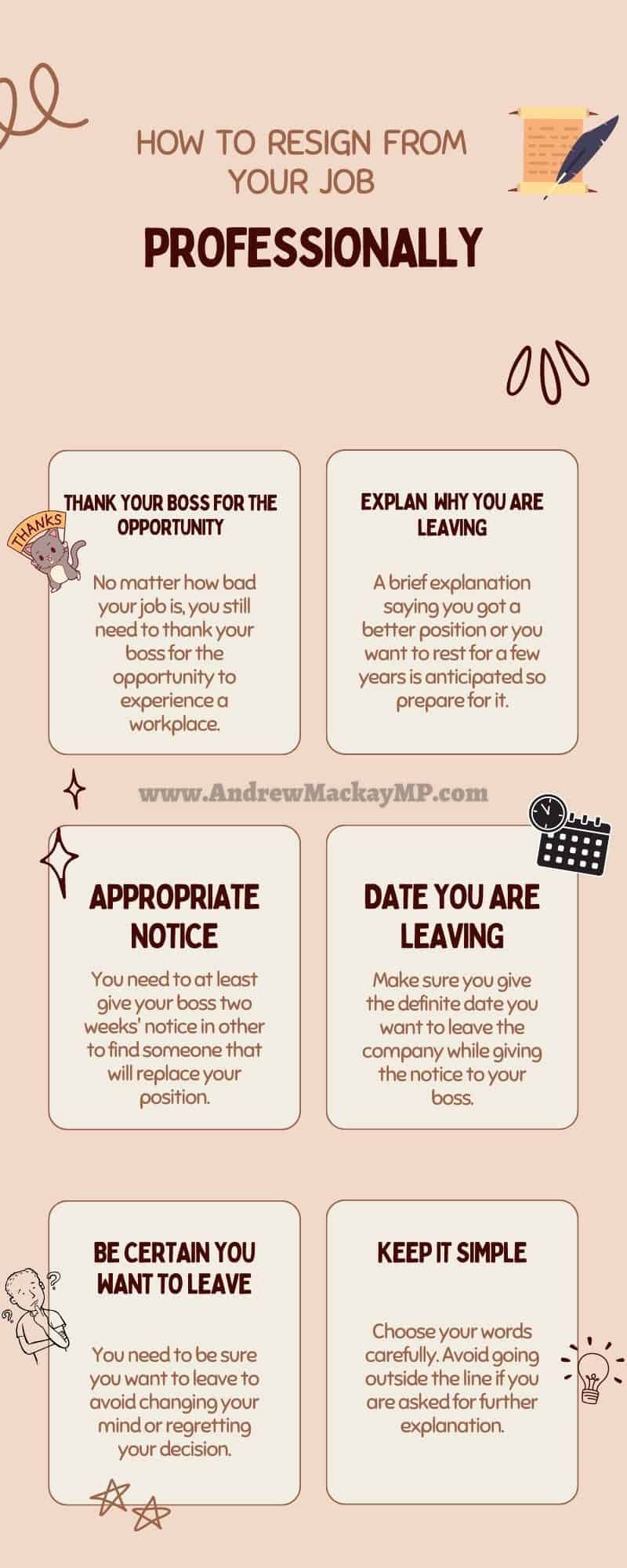 You can't stay in the firm forever because of all these things if you are offered an even better position.
Below are the proven steps that will help you avoid all compromising positions while resigning from your job;
Thank Your Boss For The Opportunity: No matter how bad your job is, you still need to thank your boss for the opportunity to experience a workplace.
Explanation Of Why You Are Leaving: Being asked why you are leaving the firm is greatly expected. A brief explanation saying you got a better position or you want to rest for a few years is anticipated so prepare for it.
Appropriate Notice: You don't need to walk up to your boss saying you are leaving the same day you want to leave. You need to at least give your boss two weeks' notice in other to find someone that will replace your position.
Date You Are Leaving: Make sure you give the definite date you want to leave the company while giving the notice to your boss.
Be certain You Want To Leave: You need to be sure you want to leave to avoid changing your mind or regretting your decision.
Keep It Simple: Choose your words carefully. Avoid going outside the line if you are asked for further explanation.
Ways You Can Resign From Your Job?
If you are uncomfortable with your current work and you want to resign, you are not limited to only one option.
You have at least two options to choose from. You can either use;
Oral Resignation
Written Resignation
Oral Resignation
Resigning orally can be very difficult compared to a written resignation. You need to be fully prepared for any question that may come your way.
When my friend Isabella resigned from her job earlier last year, she used the oral method of resignation.
Although she was nervous preparing for it, the steps I have carefully written above helped her tackle all nervousness.
If you are still finding it difficult to use those steps, you can use the sample below to resign;
Hello Johnson, If you have a moment I would love to discuss something with you. I have been looking for the right opportunity to say this and I guess this is the right time.

I've been made an exceptional offer by another firm and I want to accept it. In as much as I would love to go higher in this company, my wife and I have given this a lot of thought and I want to accept it.

We feel the new opportunity is in our best long-term interest.

I deeply appreciate the support, the opportunity for an experience in your firm, and exceptional leadership.  I want to thank you.

You have been more than a boss to me. I wish for your good wishes for me in my future pursuit. Thank you.
After this saying, an official written statement containing the date you are leaving and other questions from your boss may come in.
Written Resignation
This is proven to be the best form or method of resignation. With this method, you will be able to communicate effectively.
This will also give you greater control of what you want to say and allow you to prepare well for it.
This method also makes you seem very serious and certain about your decision. Although if you are exceptional at your work, you might be summoned for an explanation.
But you won't be put in a difficult position. Remember to be polite at all times because you never know when your path may cross with your colleagues in the future.
The sample above can also be used as a form of a written resignation.
As a college student, you can check out how to ask for an internship with samples.
Best Day Of The Week To Resign From Your Job
Quitting a job may seem unpleasant, stressful, and draining if your workplace is toxic. From all my encounters and research, the best time to resign from your position is on a Friday.
The best day of the week to resign from your job is on Friday.

Resigning on a Friday will make the news of quitting sink in during the weekend before the start of a new week.
I will not advise you to resign on a Monday or Friday because that is the busiest time of the week and work for the week is just starting.
What Is The Best Time Of The Day To Give Your Resignation?
When is the best moment to quit, at the start or at the end of the day?
To avoid any emotional stress that may arise when you say you are resigning, you need to give your resignation letter or speech in the afternoon.
The best time of the day to give your resignation is after 3 pm.

The chances of your boss being in a better position is very high because they are already wrapping up things.
This will allow your boss to think about your decision and adapt to the news in their home.
FAQ On Best Day Of The Week To Resign From Your Job
It is idle to resign on any day you feel you are fed up with your job. Below are some frequently asked questions and answers to them;
Is Friday A Good Day To Resign?
There are several reasons that Friday is the traditional day to quit. If you decide to quit Monday, Tuesday, Wednesday, or Thursday you're making a mistake!
When you turn in your notice on a Friday you can let the dust settle over the weekend.
What Is The Best Time To Quit A Job?
Although there is no definite or 'best' time of year to quit your job. The time you quit your job should be mostly based on the time you have left before you start a new job.
The best time to quit a job on a Friday is after 3 pm. To help reduce all emotional stress you might face.
Should I Give Notice On A Friday Or Monday?
Monday and Friday Are the Best Days to Give a Two Weeks Notice. If you are on good terms with your company and your employer, hand in your two weeks' notice on a Monday so that a Friday will be your last day.
How Do Managers Feel When You Quit?
No good employer will feel good about an employee resigning from his or her company for a better offer without feeling guilty about not doing well.
It can be quite difficult because as a manager or a company, when an employee says they're quitting, it sort of feels like getting dumped by a significant other.
I have seen different reactions from my boss when a potential colleague resigns from his position. Different emotions may come up if they really like you they will wish you well.
Should I Talk To My Boss Before Resigning?
It is not proper to surprise your boss about your resignation.
The first step you should take after deciding to leave your job is scheduling an in-person, phone, or video meeting with your manager to let them know of your plans, and the earlier the notice the better.
Conclusion
This article on the best day of the week to resign from your job is important because you need to leave a lasting impression in your workplace before leaving.
Don't seat back on a job that is not treating you well or leave a better offer just because you don't know how to quit.
It can be nerve-wracking just thinking about resigning from your job. With the right steps, you will be able to tackle this challenge.
References
 Michael Lopp – https://books.google.com/books?id=o3ykfQxl7pMC&source=ttb
M. Ronald Buckley, Anthony R. Wheeler, Jonathon R. B. Halbesleben – https://books.google.com/books?id=y8brCQAAQBAJ&source=ttb
Communication Skills For Dummies – https://books.google.com/books?id=qTnhOexkwWIC&source=ttb
Youtube – How to quit a Job: Leaving on Good Terms
Martin Yate – https://books.google.com/books?id=GdB5DgAAQBAJ&source=ttb
Corporate Finance Institute – https://corporatefinanceinstitute.com/resources/careers/how-to-job-guides/resignation-letter-template/