As a college student knowing how to ask for an internship for myself became a thing of importance due to the increase in competition among my peers.
I was so eager to find a solution to my search. During my search, I got to find a solution that works perfectly well and I still found some tips that will help you secure an internship fast.
It can be a few lines of email that are keeping you from your desired internship. All you need to do is to make time to research for an internship that is a good fit for you and your resume.
In this article, we have discussed what an internship is, how to ask for an internship, and how to write an email asking for training with examples. We have included an infographic that you can download and use for reference purposes.
What Is An Internship?
An internship is simply, an opportunity to learn more about your specified career path, build your network, and gain a resume bolstering experience that can help prepare you for full-time employment.
It is also the practice of a wide range of work experience in the business industry, non-profit organizations, and government agencies for a period of time.
Tips On How To Ask For An Internship
One of my major findings is that internship should be fieldwork related to your subject of specialization or discipline.
I have prepared important tips that will make your search for an internship easier for you. These tips are listed below;
Firstly, you need to browse through openings that are related to your discipline, will add value to your future, and are ready to recruit an intern.
Make a list of all potential companies and choose the area that is most suitable for you.
Do a proper background check on the company and what an intern stand to gain after working there. Browse about the company and also read articles that are related to them.
Check properly if you are interested in the internship you are applying for.
And lastly, write a good email that will do the trick for you. If you don't know how to write one, we got you covered.
How To Ask For An Internship In An Email
Using an email to ask for an internship in today's digital world is increasingly normal.
Although when I tried it the first time it was nerve-cracking, with a few tricks I was able to make it in my desired firm.
And I know this will also work well for you too. With the steps below, you will learn how to write an email asking for an internship;
Know How To Address The Recipient
The first thing you need to do when crafting your email is to know the appropriate person to address the email to.
Once you are certain of the name of the contact, you can now be certain of the title to use. Using Dear Dr./Mr./Ms./Mrs. is suitable for all.
And if you are not certain of the person's gender, you can address them with their full name. Example "Dear Victory Smith".
And when you don't know either of the above, you can make do with a generic greeting like " Dear hiring manager " or "To whom it may concern".
Go Straight To The Point
Be straightforward with your request and keep your request simple. We all know that the work of a hiring manager has other responsibilities.
Therefore go straight to the point with your application by briefly relaying your interest in an internship with them and state the time you will like to spend.
Introduce yourself and also state a mutual contact of a referee if you have one.
Outline The Purpose Of The Internship
This is another important step on how to ask for an internship by writing an email. Indicate if you need the internship for course credit or if you are just pursuing it for just job experience.
Also, explain the skills you hope to gain during the cause of your internship.
Discuss Your Qualification
The second or third paragraph is most suitable for this part of the email. With several sentences, you can share some part of part experience and skills.
Sharing your past experience and roles will help your employee know that you are capable of handling a position and assigned tasks well.
You also have a need to share your extracurricular successes. Indicate if you have coached or led a team before.
Provide A Contact Information
Discuss the appropriate time you will be available to be contacted for a follow-up on your application.
You also need to give contact information or any other way you will like to be contacted like an email, phone number, and mailing address.
Close The Email Politely
As I mentioned earlier, the reader of the email has other responsibilities so it is appropriate to thank the reader for making out time to go through your email.
End the email cordially with Sincerely or best regards and also sign your full name.
Follow Up
Remember to follow up as promised. If you really want to be an intern in that company and they are yet to reply to your email, remember to email or call them back to remind them of your application.
Also Read: How Many Jobs Are Available In Precious Metal
How To Apply For Internship Infographic
You can download this infographic below and use it for reference purposes.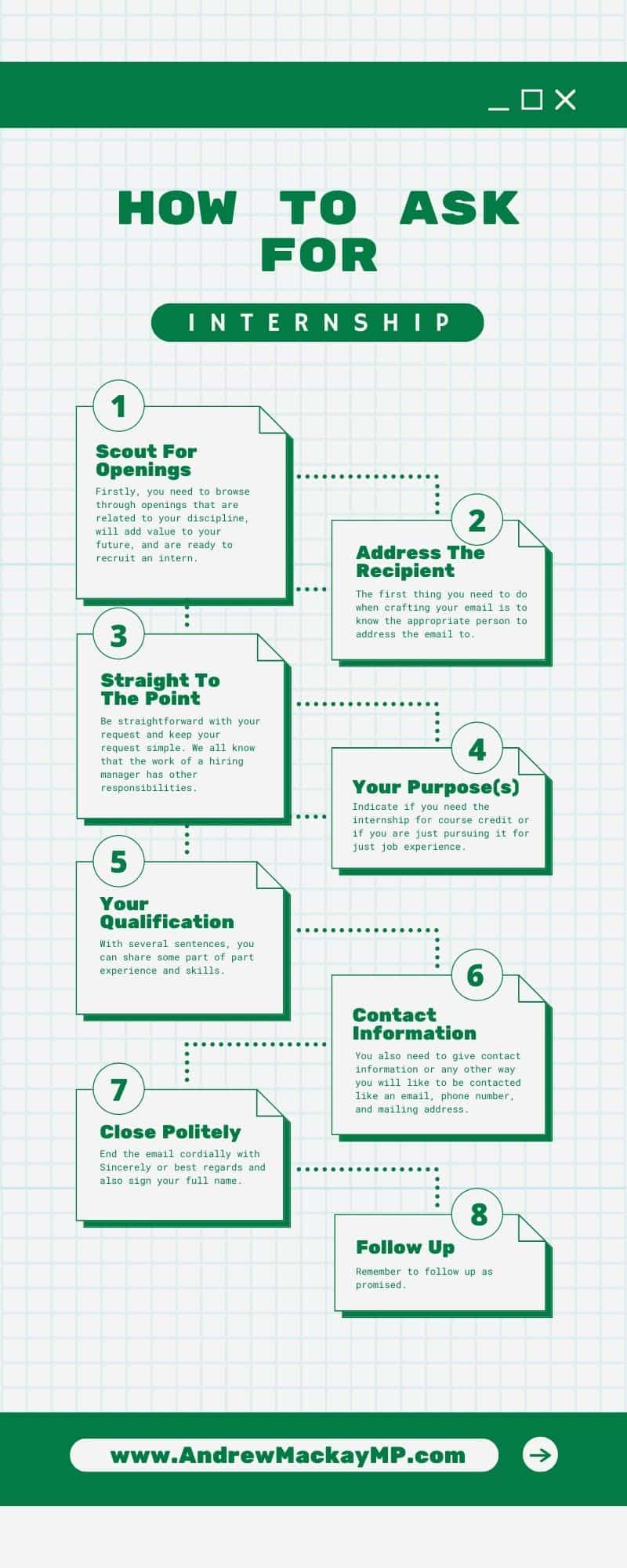 Internship Request Email Sample
The samples or examples I will give below can be used as templates for your future application;
Sample 1
Subject: Application for Internship

Dear Dr./Mr./Ms./Mrs,

I am writing with reference to the advertisement for a one-month internship program that you posted on your LinkedIn handle, I am interested in joining your internship.

I am a final year student of Veterinary medicine at the University of California San Francisco Parnassus campus.

As part of my school curriculum, we are asked to do a one-month internship program and we are allowed to choose any company of our choice.

I have always loved pets and I work and volunteer in a pet shelter for Dogs and Cats.

Having been a person who always loved to express my love and thoughts about pets, your internship program seems to be the perfect opportunity for me.

I am looking forward to learning more about being a part of a veterinary clinic.

Kindly consider my application and give me a chance to learn and practice the art of pet care and treatment.

I have attached my resume and a copy of my college ID card for your reference. Looking forward to hearing from you.

I can be contacted with the email I used in sending this email or with the phone number 920*******

Thank you

Yours sincerely,

Bliss Smith
Sample 2
Dear Mr. Greg John,

My name is Peace Peterson and I'm emailing you to ask about a potential interning opportunity at your company.

I'm currently a student at the University Of Chicago, studying Journalism and Mass Communication.

Your company's work on daily newspaper production is something I've always been passionate about.

I have a working blog that I update daily and I write on topics relating to politics, pets, entertainment, and lots more.

I'd appreciate any information you can provide on how to get involved with your company. Please let me know if you have any internships or other opportunities available.

You can reach me via email or on my cell phone at 920********.

Thank you so much for your time. I really look forward to hearing from you.

Margret Tasha
FAQ On How To Ask For An Internship
Apart from writing an email for an internship, you might also want to call the number of the company straight up.
Below are some frequently asked questions on how to ask for an internship and the answers to them;
How Do You Ask For An Internship End?
Here's what you need to do to make your case.
Make Sure You've Made the Most of Your Internship.
Compile Your Goals and Accomplishments.
Get Some One-on-One Time With Your Manager to Thank Them.
Then Outline Your Request.
If They Say No, Be Gracious and Keep in Touch.
How Do You Call And Ask For An Internship?
Using a telephone calling script to ask for the interview works well. Below I have highlighted a few steps to follow;
Call the contact (a manager or HR) and introduce yourself
Say something friendly
Give the reason for calling
Prepare for the unexpected
Ask questions
Confirm the interview and thank them
Prepare for a possible "put off"
How Do You Write An Email For An Internship?
Below are the things you need to include in an internship offer letter;
Name of the company.
Title of the internship position.
Dates the internship program will begin and end.
Expected work schedule during the internship program.
Details about whether the position will be paid or unpaid.
Conclusion
This article on how to ask for an internship in any company will help you conquer all your fears and obstacle in paving way for more experience in your field.
Do not feel you are alone and also know there is still time for you to set your goals right.
Remember to always explain why you would like to work as an intern in the company of your choice.