You are here because you need dessert table ideas on a budget to oversee an event and make it a memorable one.
Dessert tables are a delightful addition to any occasion or event that one wants to do. While cakes are the most popular dessert ideas, people opt for more exciting ideas on desert ideas.
I know you often see some dessert ideas online but when you try them out yours seem similar to a third-grade art because they are challenging to design.
That is why we have made out time to prepare dessert table ideas on a budget that are simple and easy for you.
These dessert table ideas for birthday parties, weddings, events at home, or baby showers, can easily be recreated at home and there's something for every type of budget.
The dessert ideas on a budget will surely impress your guest if you use them during an occasion.
Tips On Making Your Own Dessert Table
Below are some of the tips that need to be put into consideration before making use of our Small dessert table ideas;
Decide What To Serve
The main thing to think about or consider when setting up your dessert table is what you will serve on the dessert table.
While some will like sweets a lot some won't like them. Make sure to have varieties that will serve all.
And also remember to put a label on each dessert so that one that has an allergy will know what to choose.
Know How Much Of The Dessert You Will Need
Another thing to consider is the number of desserts that will be enough for the number of guests you are Inviting.b
Consider serving three to four portions per person. If there will be cake at your occasion make sure you ask your barker the number of cakes that will be available so that you will subtract it from the number of desserts.
And if you are planning on baking any homemade desserts remember to put your hygiene on a high level to avoid any stomach upset during the occasion.
Source Accessories
Anything that will make the table complete and give it a creative view should be shopped for first and made available a few days before the ceremony.
You can also get crafty and make anything from greenery garlands, balloon walls, and paper chains yourself.
If you are on a tight budget, some of these accessories can be found in a thrift shop or can even be rented for a few days for a lower cost.
Consider How You Will Like it Styled
This should be another important thing if you are considering preparing the dessert table yourself.
Since you have a theme all ready for the occasion, your dessert table should also be in line with the party theme
It's also important to look at the visuals of your arrangement and make them very attractive for your guests.
Your dessert table can get that spectacular look if you consider the heights of the items.
Bring in a few taller items like cake stands to place showpieces on, maybe risers for other finger foods, and layer the bottom with everything else.
And if you are considering candles as a decorating item on the dessert table, then you should place your candle flame properly to avoid any trouble.
Best Dessert Table Ideas On A Budget
While big and professional companies will charge you a whooping sum just to decorate and design a dessert table, these ideas focus on "Do It Yourself" DIY.
Below is an effective way to create your candy buffet or dessert table while solidly standing on a budget;
Choose A Perfect Theme For Your Dessert Set Up
You need to have in mind the occasion of the party and include the party theme while designing the dessert table.
You can't be using a baby shower theme while you are hosting a wedding. Your desserts come in handy when you have a theme in mind.
Decorate Your Table With Sweets
As I said earlier, some other desserts can be added to your dessert table apart from cakes. You can decorate your dessert table with sweets.
You should also choose sweets that match the color of your theme. Choose a tray and plates that also match the color of the theme.
Use Levels
Using level will help create balance and symmetry in the display. Using leveling to move from the table to the higher displays will keep guests' eyes on the table.
This is one of the best dessert table ideas on a budget cause it also allows you to buy overturned plates that are glued to sturdy glasses from thrift shops and still use them as level.
Use A Backdrop
A backdrop is painted cloth hung at the back of a theatre stage as part of the scenery. This can be applied to your dessert table arrangement.
Tieing a background makes the table look better and more presentable. There are many options to choose from while using a backdrop.
But make sure that the color matches the theme of the occasion. This technique is very cheap because it only requires a soft cloth and level for placing the dessert.
Use Creative Designs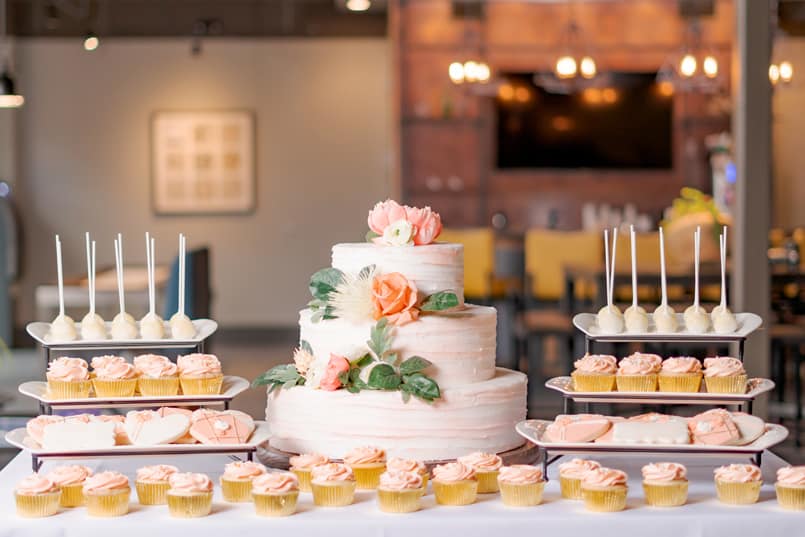 It doesn't matter who designed your dessert table but the design you give the dessert table makes it stand out and attract attention.
For a more creative look, use sprinkles as toppings on cupcakes and also use fancy wrappers.
You can also make other fancy and creative designs on other desserts by molding them into different shapes before baking them.
Make sure that other desserts are decorated differently with eye-catchy toppings.
Read More: DIY Sloped Backyard Ideas On A Budget
Use Serving Trays With Special Designs
This is another wedding dessert table idea on a budget that is also very spectacular and attractive.
You can get this special design try on a low budget by buying them from thrift shops or renting them. You can use apothecary containers and pretty plates to make petit fours for small desserts.
To get a more creative dessert table, the cake stand should be designed with table cloth with unique colors.
Use Chalkboards
Instead of using clothes as backdrops, you can also use chalkboards. Chalkboards can be used to convey personal messages to loved ones.
These messages can be creative statements that are also very beautiful.
Use Paper Flowers
One of the best birthday dessert table ideas on a budget is using paper flowers as a decorating material.
You can use paper flowers to decorate the back of the dessert table to get a more fascinating view. If you are on an even lower budget, you can use tissue paper for decoration.
Also, note that this will work well if you have very few colors like two or three colors.
Use Vintage Theme Dessert Display
For an ultra wedding or party, a stylish dessert table is needed to complete the feel.
You can search your local flea market or rental shops for a gilded table or antique dresser to display your desserts.
This will give you the spectacular feel you need at your party.
Use Regular Ballons
Normal balloons can be used as background designs that can be anchored at different heights.
If you are considering children's birthday parties or any other children's party then multicolored balloons should be used.
You also use a single color. All according to your choice.
FAQ On Dessert Table Ideas On A Budget
Below are some of the frequently asked questions on simple dessert table ideas on a budget and answers to them;
What Should Be On A Dessert Table?
Have you been asking questions and wanting to know the specific things that should be on the dessert table? There are a lot of them, below I will list some of them;
Symmetrical arrangement.
The decoration color should be mostly white.
An Array of Desserts.
Cake Pops.
Edible Cookies.
Sunny Rock Candy.
Fabulous French Macaroons.
Fondant Flower.
How Many Items Should Be On A Dessert Table?
A good rule of thumb is 1 or 2 really special items (which could be bought), 2-3 homemade desserts, and then 2-3 candy items that can be purchased.
How Do You Keep Dessert Cold On A Dessert Table?
Use a large bucket of ice cubes or even dry ice to hold frozen desserts until they are eaten. You can position ice cream sandwiches, popsicles, and other frozen sweets on the ice.
The ice will keep them cold and should last long enough for the dessert session.
Conclusion
As you can see these DIY Dessert table ideas on a budget are simple and gorgeous.
Getting ready and setting up a dessert table takes a lot of time, so use common sense when it comes to choosing the types of desserts you will be serving and make the most out of it.