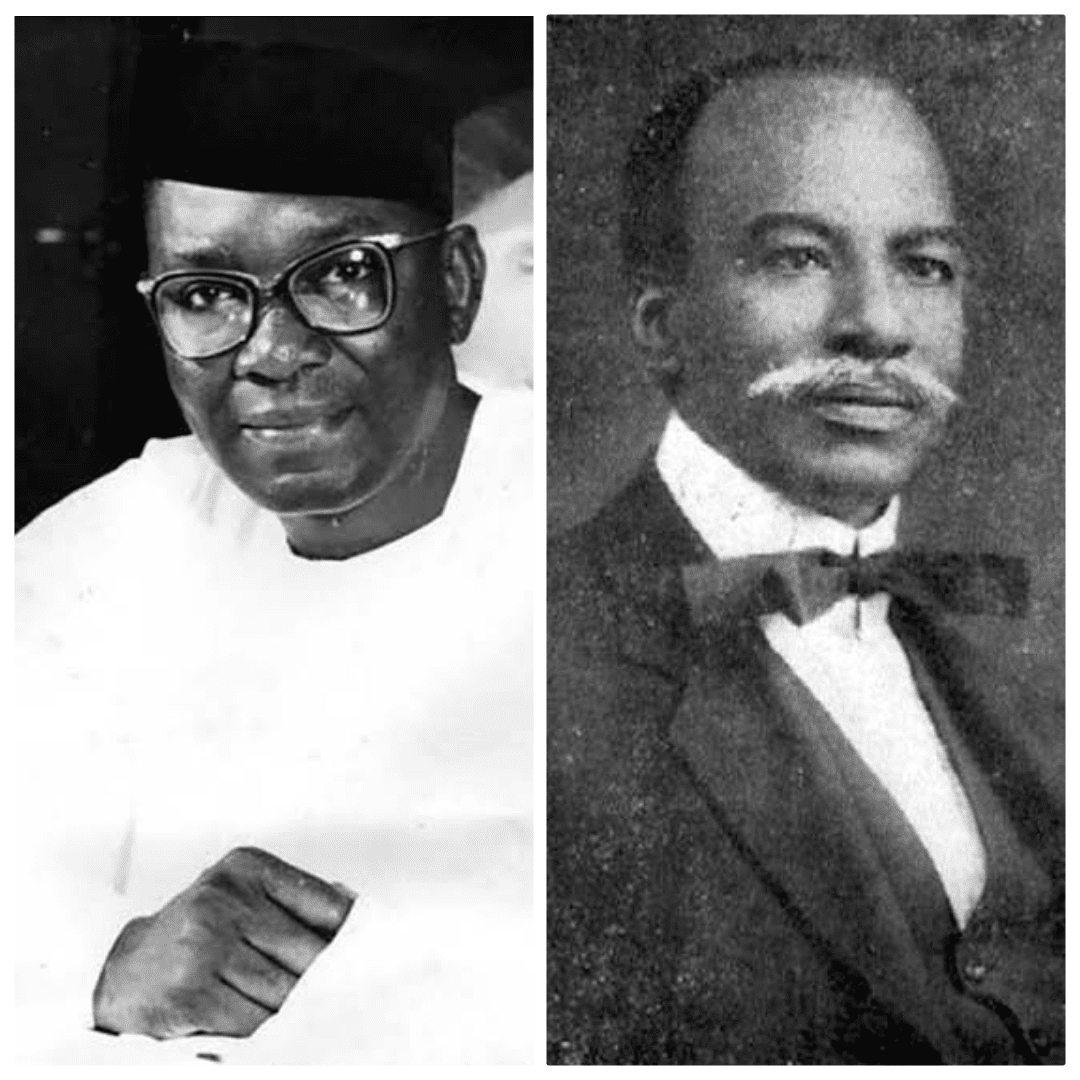 Gaining Independence from her colonial leaders wasn't as easy as it might have seemed. Nigeria needed people who would stand for her to ensure that she got her Independence. Now, there are people who worked a lot for the Independence of Nigeria, these people are the heroes who fought for the Independence of Nigeria.
I shall give you a precise detail on the heroes and the role they played towards ensuring that Nigeria get its Independence.
List Of People Who Fought For Nigeria's Independence
Below are the list of the nationalists and how they helped in ensuring Nigeria gets self-role.
Nnamdi Azikiwe
Nnamdi Azikiwe was born in November 16, 1904 in Zungeru present day Niger State. He is an igbo. He was the co-founder of the National Union Of Nigerians And Cameroons (NCNC) along side Sir Herbert Macaulay, the NCNC was founded in 1944 and it played a significant role towards ensuring that Nigeria gets her Independence.
Aside from being a prominent member of the NCNC, Nnamdi Azikiwe was also an active member of the Nigerian Youth Movement (NYM). The movement was founded in 1935, it was also a nationalist organization that Nnamdi Azikiwe used as a catalyst for the attainment of self-role. Another movement Azikiwe used for the liberty of Nigeria was "The West Africa Pilot" a newspaper which was published daily.
Nnamdi Azikiwe also gave strong opposition to the Richard's constitution in 1945. He was elected in the legislative council under the same Richard's constitution. In his view, he said the consideration was wrong hence he wanted change to be made. After all the struggles for independence, Nnamdi Azikiwe became Nigeria's governor general from 1960-1963 and subsequently, he became the first president of Nigeria from 1963-1966.
Sir Herbert Macaulay
The next hero I'd like to talk about is Herbert Macaulay. Sir Herbert Macaulay was born on the 14th of November 1864. His parents were Thomas Babington Macaulay and Abigail Crowther. Sir Herbert Macaulay is one of the founder of the NCNC. He was also the founder of the Nigerian National Democratic Party (NNDP) which was founded in 1923. Even though the party did not have a national outlook, Herbert Macaulay himself with the people
Sir Herbert Macaulay as one of Nigeria's first nationalist was a strong opposition to the colonial leaders and their policies. The major reason why Herbert Macaulay founded the NNDP and the NCNC was to bring Nigerians together so she can gain independence.
Ahmadu Bello
Sir Ahmadu Bello was born in June 12, 1910. Ahmadu Bello played a vital role as well towards ensuring the Nigeria became Independent. He was a co-founder of the Northern People's Congress (NPC) it was a moment that had nationalists like Sir Abubakar Tafawa Balewa as one of its leader. Ahmadu Bello became the first premier of Northern Nigeria in 1954.
Not just that, he was the Sardauna of Sokoto.
Ahmadu Bello realised Nigeria needed to have independence so he formed an alliance with Dr Nnamdi Azikiwe and other nationalist which led to the Independence of Nigeria.
Abubakar Tafawa Balewa
Sir Abubakar Tafawa Balewa was born in December 1912 in his hometown, Bauchi state. He joined forces with Ahmadu Bello to form the NPC. He was the deputy leader of the party. When Nigeria was fighting for self-role, Balewa the minister was appointed as the minister of works and later became the minister of transport. He also formed alliance with the NCNC so Nigeria could get her freedom. Balewa played a significant role in ensuring Nigeria got her Independence. His impact was not only felt In Nigeria, he was leader of the organization of African Unity. It was also a platform for self governance. Not just in Nigeria but Africa as a whole. He became the first prime minister of Nigeria after independence.
Obafemi Awolowo
Born in March 6th 1909. Chief Obafemi Awolowo played a vital role in Nigeria's attainment of independence. He was also a member of the Nigerian Youth Movement (NYM) alongside Nnamdi Azikiwe, H.o Davies, Samuel Akintola and other people who fought for the Independence of Nigeria. He was also the leader of the Action Group (A.G). He believed federalism was the best method of uniting the people.
He was a democrat politician who worked earnestly towards ensuring that Nigeria gets her Independence. He became the first premier of western Nigeria and he used that office profusely to work towards the attainment of self role.
Anthony Eromosele Enahoro
Chief Anthony Enahoro was born in July 22 1923. In the history of Nigeria's struggle for independence, Chief Anthony Enahoro was the first Nigerian to move the notion for Nigeria's Independence in 1953. His heroic activities made him to be regarded as the "Father Of Nigeria".
Hezekiah Oladipo Davies
Another hero who fought for the Independence of Nigeria is Chief Hezekiah Oladipo Davies popularly known as H.O Davies. He was born on 5th April, 1905. He was not just a Nigerian nationalist, he was also a lawyer, journalist and a trade unionist. He served as a prominent key to the Independence of Nigeria.
H.O Davies was also a co-founder of the Nigerian Youth Movement. To ensure that Nigeria gets her Independence, H.O Davies joined the NCNC. There is no doubt that he played a vital role for the attainment of Nigeria's Independence.
Samuel Ladoke Akintola
Chief Ladoke Akintola was born in July 6, 1910. He teamed up with Chief Obafemi Awolowo upon his return from UK to form the action group (AG).
He used his knowledge of politics towards the attainment of self role by uniting the people of Nigeria and ensuring that federalism took its stand in modern Nigeria. Chief Ladoke Akintola did not allow any set back, he focused on the attainment of self- governance. He became the next premier of western Nigeria after succeeding Chief Obafemi Awolowo.
Conclusion
Getting independence has paved the way for a lot of previlages to Nigerians ranging from self-government to freedom. We celebrate the heroes who fought for the Independence of Nigeria for their selfless acts.