A screen porch might seem difficult to design if you are on a budget. But with these Screen porch ideas on a budget, you will be able to get a good screen porch without stress.
One of the best ways to create a place of relaxation with friends and family is with a screen porch. A screen porch is a place of relaxation mostly used during the summer period.
The average cost of a screen porch is between $2,000 and $2,800. But it can be more than that if you add other expensive items.
With this article on screen porch ideas on a budget, you will be able to meet up with any budget you desire.
Easy Screen Porch Ideas On A Budget
We have carefully written screen porch ideas on a budget that are easy to follow for you below.
Utilize An Existing Patio
Using an existing patio or porch is better and cheaper than building a porch from scratch.
The cost of building a porch from the beginning will increase or make you exceed your budget. Therefore if you have an existing porch, the cost will be less.
The cost of flooring the porch will be covered and some other ground-level building will not be needed.
Find Affordable Materials
To save cost, you need to buy materials that are cheaper and easy for you to buy. You can buy aluminum and other inexpensive items to reduce costs.
Even the cost of furniture can be reduced by purchasing fairly used furniture known as thrifts. Although they might need a little touching up before use.
You can also use cheap curtain material to make curtains because shades are also necessary on your screen porch.
Although rugs can be expensive. You can search for cheap and affordable rugs at Target or Walmart.
Build In The Fall
Another on our list of screen porch ideas on a budget is building your screen porch during the fall or winter.
Building your screen porch in the off-season can be an advantage because materials are in less demand at that time.
Therefore the cost of materials is lower and labor is also reduced during this time. Working during the summer period can lead to higher delivery fees and higher labor charges.
Downsize And Keep It Simple
Whether you are building the screen porch or patio from scratch, making your patio small will help reduce cost and make you not exceed your budget.
Keeping your porch wider and adding more cool features to it may be very tempting but also remember to check your budget.
Keeping your new porch simple will keep the price down. You can always personalize your patio by adding decors of your choice which may be second-hand to reduce cost.
Do It Yourself (If You Can)
DIY is another screen porch idea on a budget that is to be considered so that it won't exceed your budget.
If you can build your porch yourself or have a family friend that will do it for you without collecting money, then it can help you reduce costs and also meet up with your budget.
This can only be an option if you are confident in your skills or the helper you may get. Not installing the screen properly may cause bugs to penetrate and make the pace unsafe to stay.
But if you are not sure of your skill, you need to hire someone to build it well for the first time.
Problems With Screened in Porch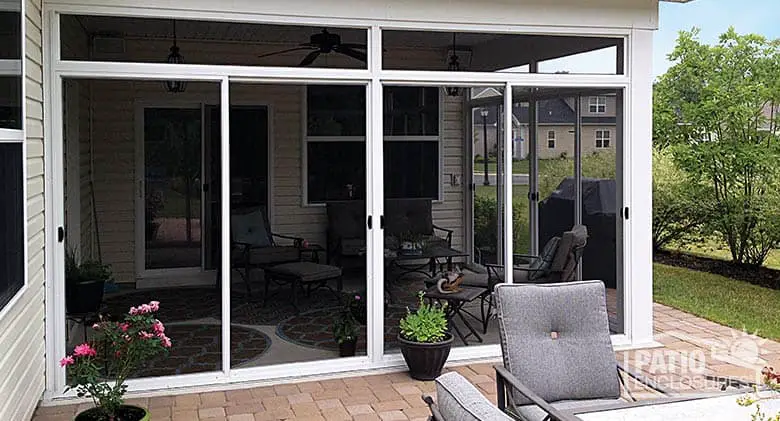 As the saying goes, anything with an advantage is prone to have disadvantages too.
Screen Porch has a lot of disadvantages and problems that you also need to know about before getting one for yourself.
Below, I will list some of them;
Cost
People often say that getting a screen porch is cheap. But that is not exactly the whole picture. Materials for a screened-in porch can be very expensive.
Although a screen porch is also part of the house but getting glass that will be enough for designing around the porch might be very costly too.
Not only are the materials a bit costly, but they can also be time-consuming.
Maintenance
Maintaining a screen porch also requires money and time too. If any part of the building rips off, it needs to be replaced.
And also screens need to be cleaned from time to time because they also accumulate a lot of dirt. Therefore you will need a lot of attention, money, and time to make sure you clean your patio.
Screen Replacement
Screens are very fragile, soft, and prone to damage. Therefore when screens are damaged, they need to be replaced.
Whether you will replace it yourself or you need to contact someone to do it for you, it is also worth considering before getting a screened-in porch.
Screened-in Porch Cost
The cost of a screen porch is not very expensive. With the right amount and a stipulated budget, you will still get a very comfortable porch.
The cost to screen the average 200-square-foot porch ranges from $2,000 to $2,800, or $2,400, on average. This includes $3 to $5 per square foot for screening, $2 per square foot for labor, plus the costs of lumber and roofing.
FAQ On Screen Porch Ideas On A Budget
Below are some of the frequently asked questions on screen porch ideas on a budget;
How Much Does It Cost To Build A 12×12 Screened-in Porch?
To build a 12×12 screen porch, you will need an average cost of at least $850 to complete all expenses of materials.
How Do You Enclose A Cheap Porch For Winter?
You don't need to condemn your porch during winter because it is not meant to be used only during the summer period.
Don't know what to use? Clear vinyl is a great option if you already have a clear porch structure in place.
It comes in rolls of plastic that can be cut and measured to cover the openings of your porch. Clear vinyl is inexpensive, and this is the cheapest way to enclose your porch for winter.
Conclusion
This article on the screen porch ideas on a budget has summarised everything you need to know about screen porch and how to make it not exceed your budget.
Read carefully so that you will be able to build that perfect screen patio without exceeding your budget.