When it comes to the best inexpensive ways to have more fun at home, this article has got you covered by providing you with step-by-step guidelines on 5 Low-Cost Recreational Activities That Can Be Done at Home such as puzzles and, many others.
So look no further, I have provided details on inexpensive yet engaging activities that you can perform with your children at home. Have a look at this list of wonderful and low-cost methods to entertain yourself at home – say no to boredom!
We have discovered that adhering to the advice for maintaining social distance has resulted in our family spending more time than normal together at home.
We have come up with some enjoyable hobbies that have brought a good deal of laughter into our life. Surprisingly, these activities do not cost very much money, which enables us to keep ourselves entertained.
5 Best Inexpensive Ways to Have More Fun at Home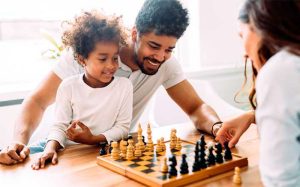 If you and your family are seeking some original and entertaining things to do together while you're at home, we've compiled a list of our top 5 favorites that we've been really enjoying lately.
Check out the 5 best inexpensive ways to have more fun at home below.
1. Puzzles
We are a family that enjoys a good challenge, which is why we are big fans of puzzles.
We keep coming back to puzzles because we love the feeling of success we receive when we finally finish one and the satisfaction we get from working together.
If you have younger children at home, you can still get them involved in the activity by asking them to locate the edge pieces or to assist you in completing the puzzle by finding the remaining pieces.
Even if you purchase one online, the best thing is that puzzles can typically be had for a low cost. The price of a 1000-piece puzzle is normally around twenty dollars. You may, however, frequently get brand-new boxes of puzzles for less than $5 if you shop at a second-hand store.
2. Construction of the Fort
My family came upon a video on YouTube that instructed us on how to construct a fantastic fort out of ordinary household goods that we already possessed. These items included bed sheets, pillows, chairs, and paper clips, to name a few. Even though it was winter, we decorated our fort with Christmas lights.
Kids may have a lot of fun making their own forts. When I was a kid, I recall that every time I had the chance to sleep somewhere other than my own bed, it felt like an exciting new adventure, and I went to sleep in the fort without my parents' encouragement.
In addition, considering that you most likely already possess all of the necessary components within your own home, this type of entertainment will most likely not cost you a single penny.
There are times when all you need is a little bit of ingenuity to inject some excitement into your life by making use of things that you already have available. If you ask any child, I guarantee they will tell you that this is one of their favorite ways to have fun in the comfort of their own home.
3. The Cultivation of Plants
We only recently experimented with cultivating a few simple plants, but we were pleasantly surprised and pleased with the outcomes.
We began by cultivating soybean sprouts and green garlic because these two plants appeared to be very simple to cultivate and did not call for a great deal of pricey equipment or primary ingredients.
My other friends have also experimented with producing lettuce from the stem that was left over. In a manner analogous to that of growing green garlic, all that is required is the plant's stem, along with sunlight, a clean glass, and enough water to cover the plant's roots by about half an inch.
Within a week, you should be able to notice that the stem in the middle of the plant is beginning to produce some very young leaves.
After this has occurred, you have the option of either eating the lettuce leaves or, if you want to take it a step further, planting the lettuce into the soil so that it can grow into a fully-fledged food plant.
Growing your own plants at home can be a very cost-effective and entertaining way to spend time with children.
4. Cooking Contests and Championships
Baking and cooking are usually enjoyable activities to perform at home, and children enjoy getting involved in both of these activities. And if you really want to take things to the next level, you could even enter a cooking contest!
As a family, we had a wonderful time participating. The parameters that we decided on were easy to understand. We were permitted to make use of any and all resources, but there were a few stipulations: all of the materials had to be readily accessible at our homes, and we had one hour to finish preparing the dishes.
The winner of the competition would not have to do the dishes for a week, and it would go to the one who received the most votes from the other participants. It was a major incentive for someone like myself who doesn't particularly enjoy doing the dishes, so that was great!
At the conclusion of the tournament, we were treated to a delicious meal consisting of fried rice, spaghetti with meatballs, warm banana bread cupcakes, and a salad with bean sprouts that we had grown ourselves.
Despite the fact that these dishes did not even come close to meeting the criteria of those in a real competition, we all had a wonderful time and were able to celebrate with a delicious supper at the end of the event.
5. Classic and Timeless Games
In today's world, we spend an increasing amount of time riveted to the screens of our various electronic devices. In addition, playing games together as a family is an excellent way to have fun without resorting to the use of electronic devices.
Classic, uncomplicated games like hide-and-seek and treasure hunts are always fun for kids of all ages.
Even now that I'm an adult, I find that engaging in these activities never fails to make me happy. For instance, my dad discovered a miniature plastic toy tucked away in the farthest part of a drawer, and since then, my brother and I have been taking turns concealing it in unusual places so that other people might find it.
It has been discovered that the toy was either in the shower caddy, in the closets, on a cap, or even in a bowl that was being cleaned in the dishwasher. The moment that someone in the house locates the toy, there is an uproar of laughter and clapping that can be heard throughout the home.
Who would have guessed that something as straightforward and inexpensive as a trinket could provide both adults and children with so much amusement?
Everyone in our family, no matter their age, had a great time participating in any of these low-cost activities, which are described above.
I strongly suggest that you include some of these in your daily routine at home. You might encounter some unexpected fun! So that has been it on the 5 best inexpensive ways to have more fun at home. Enjoy!