We've got you covered on fabulous fall wedding ideas on a budget that will give you what you want. Weddings can be extremely expensive.
Knowing and having a budget that works for you is absolutely convenient. There are ways you can save money and still have the wedding of your dreams.
An autumn wedding is the best idea for an outdoor wedding while considering the weather and temperature at that time.
Also bear in mind that a typical wedding is not one that needs to be rushed. Everything needs to be planned out before the actual date.
Read through to discover rustic, elegant, small, and cheap fall ideas on a budget.
Best Fall Wedding Ideas On A Budget
If you want an affordable wedding then the ideas below are for you.
Fall Wedding Location Ideas On A Budget
To meet up with your budget, you need to know the location you will use that will be cheaper for you. The location plays a vital role in your wedding.
With the ideas below, you can have the perfect location for your wedding.
Use A Public Park
There are a lot of public parks around your vicinity that will not collect a dim from you for an occasion. With this, costs will be reduced.
Imagine if the park is filled with natural plants and flowers. If so you won't need much decoration because most of what you need for a perfect outdoor wedding during the fall is present.
All you need to do is search for one around you and enquire if a permit or any other requirement is needed.
Church As Venue
Do you know if you want to have a wedding in a particular church and you are not a member of the congregation that it is still possible to have a wedding in the church?
Yes. There are many churches out there that will allow you to have a wedding in their church whether you are a member or not.
Once the venue is decided all you have to do is redecorate the church to your taste.
Use A Restaurant
You can use a restaurant to hold a fall wedding. It is proven to be cheaper than a normal traditional wedding hall venue.
With this, you can get a round table seating setting without spending much.
Fall Wedding Decoration Ideas On A Budget
The venue's decoration also plays a vital role in your rustic fall wedding. No matter your budget you will still need to decorate to give your wedding some class.
Use The Perfect Color
Color is the most important part of decoration for a wedding. There are a lot of color ideas to choose from.
If you are having a typical outdoor wedding in a park or nature reserved area, you might have to consider going for a wildflower color for that season.
If not, check for a wedding color palette to choose a classic color combination.
Use Seasonal Flowers And Plants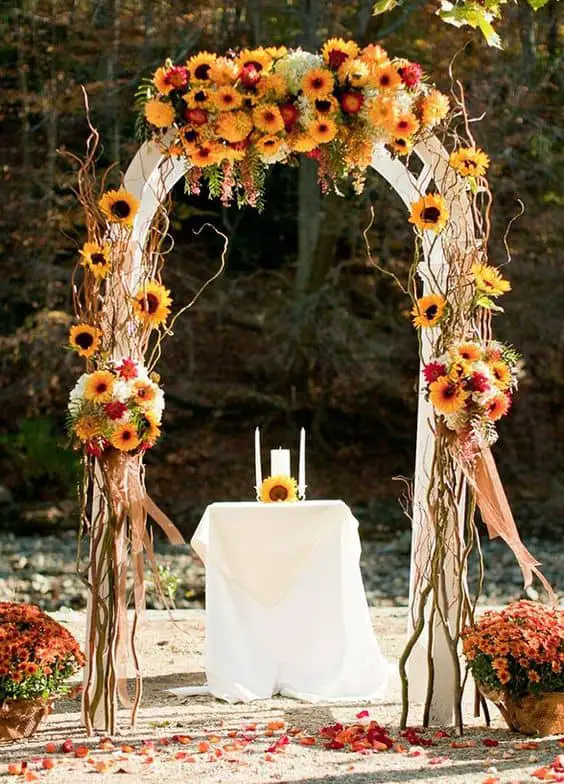 To reduce cost as we stated earlier, there are a lot of things that can be done. Using seasonal flowers for your bouquet and decorations is one of them.
Typically, seasonal flowers are more affordable compared to out-of-season flowers. Since your budget is very slim make use of the available flowers.
What did you hear about plants during the fall? They are very elegant and suitable for wedding decoration. Placing some fallen leaves and branches in a vase is a nice idea for decor.
You can also use harvested fruits for your wedding. Harvest fruits are very rampant at that time and gives a perfect color addition.
Add Balloons
Ballons are not very costly and they add simplicity and color to your decoration.
When choosing balloons during the fall, colors like orange, yellow, and brown can be used to make an entrance arch that is very intriguing.
Ask Family And Friend To Help In Decoration
There must be some members of your family and friends that are very creative and good with decoration. All you need to do is to tell them to help out with decoration.
And this will go at no cost or in exchange for gifts.
Shop For Decor Material At A Thrift Shop
This is another good way of reducing costs while preparing for your wedding. Most materials for your wedding decor that are not natural can be shopped at a thrift shop.
Isn't that great? You will get them cheap and also have an elegant wedding.
Use Led Candles
I know you will be wondering why chose a led candle. Led candles are inexpensive, safe, and will still enough for an all-night ceremony.
Fall Wedding Color Ideas 
After choosing the theme and venue of the wedding the next thing to choose is the color that will match a typical fall wedding.
Below are the best colors for a simple fall wedding;
Go Classic
During the fall, you can go classic with just some simple colors. Bright colors like orange, rust, and burgundy are a match for a classic fall wedding.
For your decoration, you can use brightly colored leaves and flowers for your decoration, invitation, and bouquets.
Deep And Dramatic Colors
Another great color theme you can go for while choosing colors for a wedding during fall is the deep, plum, navy black, or dramatic color palette.
This will surely give you an elegant and fabulous feel.
Fall wedding Dress Ideas On A Budget
To make that dream wedding come through with just a small budget, these fall wedding ideas on the budget below will contribute a lot.
Shop For Dresses On Consignment Stores
Dressing contributes a whole lot to the costs of a wedding. You can go all simple and cheap and still look graceful on your wedding day.
Simple, cheap, and great deals on wedding dresses can be found in consignment stores or sample sales.
Mismatched Dresses For Bridesmaid
This might also seem to be the trend these days. And also a great way for you to save. With this, a bridesmaid will be able to choose a cloth of her choice but with less cost.
Wedding Food Ideas On A Budget
There are numerous ideas on the food you will serve at a wedding to reduce cost. We will highlight these ideas below;
Go For A Desert Table
It will be absolutely great going for a dessert table instead of the usual giant traditional wedding cake.
With a dessert table, your guest will have something to look at other than the wedding decor or couples and also have a variety of treats to choose from.
Check out our site if you are looking for cheap dessert table ideas on a budget.
Use Affordable Foods
To get affordable foods for your wedding you have to first check the in-season foods and fruits that are available at that time and add them to the menu.
Add simple and comforting foods like macaroni and cheese, pot pies, roasted potatoes, steamed vegetables, and salads are also budget-friendly.
Adding entrees like chicken, beef and pork are not also bad. You can get a great deal of them during the fall.
Fall Wedding Photography Ideas On A Budget
Below are some of the photography ideas on a budget for your wedding;
Use DIY Photo Booth
DIY photo booth for your guests will bring more fun and taste to your wedding. And at the same time will reduce the number of moments the photographer will need to capture.
It is easy to set up. You just need a camera, a camera stand, and a space that will fit a number of people.
Inexpensive Photography
While a wedding might seem to last for a short time, wedding photos are meant to last a lifetime. This makes photography in weddings one of the most important investments in a wedding.
Therefore, you need a very experienced photographer to cover the whole event for you.
Being on a budget will not limit you to less. What you need to do is to choose a date during the fall that is not jam-packed with weddings.
So that photographers will be less busy and as such give you a discount. And you can also tell the photographer to only capture important things.
FAQ On Fall Wedding Ideas On A Budget
Below are some of the frequently asked questions on small wedding ideas for fall;
How Do I Make A Low Budget Wedding?
Below, we will list ways that will help you reduce your cost and have a perfect budget-friendly wedding;
Limit your guest list.
Host the ceremony or reception at home or outside or in a church.
Ask friends and family to exchange skills for presents.
Do it yourself and be creative whenever possible.
Use a dummy wedding cake or dessert table.
Time your wedding wisely to avoid unnecessary costs.
Scout out vendors that are willing to give you a discount.
How Can I Spice Up My Wedding?
Do you know you can spice up your wedding with different combos and still make it budget-friendly?
Below are the 7 Easy Ways to Spice Up Your Wedding Ceremony;
Mix Up the Ceremony Set-Up.
Infuse Something Different into Your Cocktail Reception.
Offer Pre-Ceremony Sips.
Pick Someone Other Than Your Pastor to Officiate Your Wedding.
Mix Up the Roles.
Choose Your Favorite Music Genre.
Choose an Uncommon Combination of Colors.
What Is Micro Wedding?
A micro wedding is an intimate affair, typically with no more than 50 guests. They still feature time-honored traditions that make a wedding but on a much smaller scale.
Sounds good to us! This seems to be one of the best options for you if you are going to a wedding and your budget is tight or you just want something very simple.
Conclusion
A wedding is once in a lifetime event but should not be celebrated at the cost of being in debt forever. A simple wedding can be fabulous and elegant as long as the couples are happy and okay with it.
With our fall wedding ideas on a budget, your dream wedding can be actualized without breaking the bank. Read through carefully and make the right decision.