Fashion Schools In Lagos Nigeria: Do you live in Lagos and have a passion for Fashion and designing? Do you also know that there are over 10 Best Fashion Schools In Lagos Nigeria?
So, in order to achieve this great dream and passion, we have carefully complied Fashion Designing Schools in Lagos, Nigeria that you need to attend.
Note there is more to being a tailor it doesn't stop in our local sewing and cutting of materials. To become more than a local tailor, you need to learn from someone who is an expert in that field, which is where fashion schools come in.
The distinction is usually found in the distinctiveness of their finished products. To get the best you have to also give your best.
Which include money competence and hard work. Some will even take attending fashion as a waste of time and resources.
But those who actually know the real value of investment do not border much about the money. However, the only problem for those living in Lagos is the particular Fashion school to attend among the list of best fashion schools in Lagos.
We have compiled the Government Fashion School In Lagos, Fashion School In Lagos With Accommodation, Fashion Schools In Lagos And Their Prices, Free Fashion School In Lagos, Affordable Fashion School In Lagos, Male Fashion School In Lagos, List Of Best Fashion School In Lagos, Fashion School In Yaba, Lagos and so on.
Here you can easily select the Fashion school in Lagos that best suit your interest.
Top 10 Best Fashion School In Lagos Nigeria And Their Fees
In the present day, the number of Fashion schools in Nigeria is quite alarming. Notwithstanding, this article is based solely on the best fashion schools in Lagos Nigeria.
We will not only list the best fashion schools in Nigeria but also explain the reason they are being added to the list. which will also relieve you from the stress of deciding which fashion school in Lagos is best for you.
List of best fashion schools in Lagos Nigeria in no order in particular
Fashion and Art Academy
Zaris Fashion And Style Academy
GYMT Fashion Academy
Rhoda Michael Fashion Academy
Hadazzah Styles And Stitches
Martwayne Fashion School
Valismo Fashion School
Ginani Fashion Academy
KG School Of Fashion
Fashion and Art Academy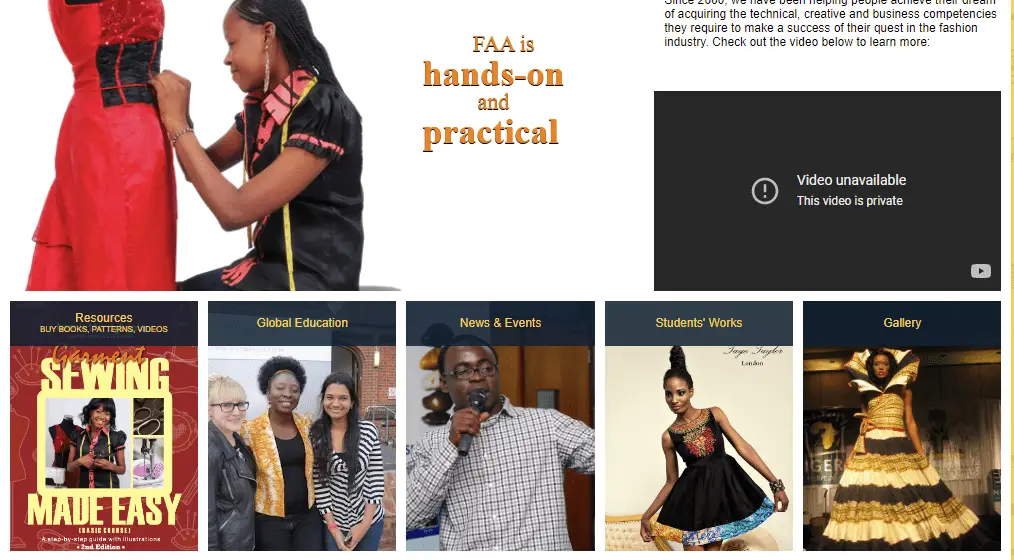 One of the best fashion schools in Lagos is Fashion and Art Academy.
Fashion And Art Academy is the leading private fashion school in Africa for those who want to acquire skills in fashion design and fashion-related disciplines with the view to building a career or starting a business in the local and global Fashion Industries.
Since 2000, fashion and art academies have been helping people achieve their dream of acquiring the technical, creative, and business competencies they require to make a success of their quest in the fashion industry.
Address: Suite F10, Surulere super plaza, opposite Havana Hospital, Akerele, Surulere, Lagos.
10, Oluwole Omole Street, off Esomo close, Beside Stanbic IBTC bank, Toyin Street, Ikeja, Lagos.
Phone number: 08023290830, 08036904382.
E-mail: [email protected].
Website: www.fashionandartacademy.com.
Zaris Fashion And Style Academy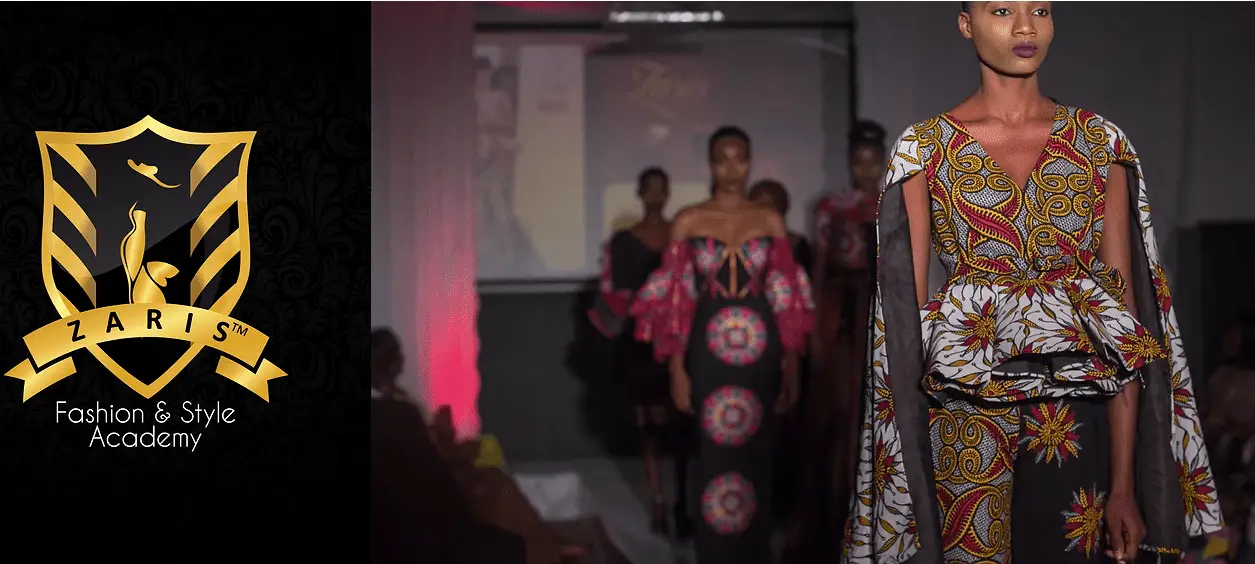 Zaris fashion and style academy has been in existence since 2016.
Zaris® is celebrating its seventh year in operations as a notable brand in Fashion education and consultancy in Nigeria and in 2016 launched its new range of certification courses in view of the quality of education it has provided over the years.
It offers training on the fundamentals of fashion designing, fashion illustration, fashion production, pattern drafting, entrepreneurship and business skills, etc.
Address: 14, Allen Avenue, 2nd-floor Centage plaza, beside Lagos Ikeja Hotel, Lagos.
Phone Number: 08035794001, 08024927850, 08090769424.
E-mail: [email protected].
Website: www.zarisfashion.com.ng
Fashion Core Courses *** Course Fee: NGN 80,000;  Duration:  One Month
Fashion Illustration

Pattern Drafting​
          Duration/Time/Cost
#  1 Month
#  Monday to Tuesday 9 a.m. – 3 p.m.
#  N80,000.00 
#  All fees already include N5,000 registration fees & 5% VAT
Endeavor to visit their official website to get the complete details and tuition on other courses they offer.
Rhoda Michael Fashion Academy
Rhoda Michael Fashion Academy is another Affordable Fashion Schools In Lagos Nigeria.
It is known for training its students on how to become exceptional fashion designers, how to draft patterns, how to sew, how to sketch, how to manipulate color, how to create trends and forecast trends, also how to manage a profitable fashion business.
Rhoda Michael has located on the 1st floor of Jerobet plaza, 15 charity Road, New Oko-oba, Abule Egba Lagos. [email protected]
Tel: 08059963848, 08029009669.
website:www.rmfashionschool.com
GYMT Fashion Academy
GYMT Fashion Academy is the fourth on our list of fashion schools in Lagos and their fees.
GYMT is known to shape women and youths to become not just fashion designers but also fashion entrepreneurs; we are a fashion business school that trains its students with the necessary skillset and business knowledge required to manage and sustain their fashion business.
They have over 32 staffs and a 3,000 alumni community that already own their Fashion academies, Ready to wear brands, Bespoke, Bridals, boutique/Retailing, etc.
Hadazzah Styles And Stitches
This is one of the fashion schools in Lagos that offers weekend, part-time, and full-time training on hot dressmaking, fashion illustration, contemporary design, interpretation of the style, etc.
Their course duration runs from 3 months to 1 year. The trainees are paired with a sewing machine each.
You learn how to design a series of outfit styles; the latest Nigerian lace styles and designs, Ankara styles, material pattern designs, and more.
Address: 19, Lawanson Road, adjacent to Total filing station, Surulere, Lagos.
Phone Number: 08024456217.
Website: http://hadazzah.business.site/
Martwayne Fashion School
Martwayne was founded by Fashion Entrepreneur, Tope Williams-Adewunmi, a South African trained Fashion Designer, very experienced in various areas of the fashion industry, its relationship with the business community, and the business of fashion.
Martwayne secures its place among the top 10 best fashion schools in Lagos thanks to its dedicated, patient, and always-helpful tutors.
It is also known to be among the most expensive fashion schools in Lagos.
The cost of this school ranges from $10,000 to 324,000 dollars.
The Martwayne Fashion School can be reached at SholeyeCrescnt is located on AyindeGiwa Street in Surulere, Lagos, Nigeria.
Valismo Fashion School
Although Valismo Fashion School does not offer full-time online teaching, it has managed to be among the best Fashion Schools in Lagos.
Valismo has 2 types of learning methods
1) Haute Couture Method or Bespoke method. Here, you sew to a clients specification
2) Pattern drafting method. This is the commercial process of sewing for mass production creating a foundation on paper before fabric.
Bespoke Method
3months 135,000 Naira only.
6months 220,000 Naira only
9months is 350,000 Naira only
Pattern Drafting Method. Promo prices are:
3months- 150,000 Naira only
6months- 250,000 Naira only
9months – 400,000 Naira only
FULL-TIME LECTURE DAYS  Monday, Wednesday, Friday
10 am – 3 pm
PROGRAMME REQUIREMENTS
Regular attendance
Fabrics for practical
Cooperation with tutors and non-academic staff
PART-TIME PROGRAMME 
The part-time program goes for the same fees but a longer duration.
5month – 135,000 Naira
8month – 220,000 Naira
12months- 320,000 Naira
Saturday's alone
11 am – 5 pm
HOSTEL FACILITY
We have a hostel facility, it's about 665 Naira per day, 20,000 Naira per month. Payment is made upfront for either 3, 6, or 9 months. The hostel has basic needs, so you pay and move in immediately. These include beds, a cooker, generator, refrigerator, etc.
It has grown over the years and now has two branches one in Lagos and one in Abuja. It is also among very few Fashion Shools in Lagos with Accommodation.
Address: Ogba, Ikeja, Lagos, Nigeria, 2 Akinwale Street
House 56, 21 Road, second avenue, Gwarinpa Estate, Abuja, Nigeria, close to the Laropa Hotel.
Ginani Fashion Academy

Ginani Fashion Academy is located in Lagos, Nigeria. It is one of the best Fashion Design Schools in Nigeria.
It has been training since 2001. Ginani Fashion Academy training is unique. It has been developed to meet the need of Nigerian designers to compete in a global economy.
They can boast of students are confident, highly skilled fashion professionals.
The training system is based on scientific foundations and principles. This eliminates guesswork and allows our students to build skills and experience.
Here is a list of courses and sub-courses with the corresponding price.
Technical
N250,000 for a 3 Months class
Sewing Class
Fashion illustration Class
Bodice Pattern Making Class
Skirt Pattern Making Class
Trouser Pattern Making Class
Design
N450,000 a 6 Months class
Technical Class
Styling Techniques
Design
Manipulation
Production
N650,000 a 9 Months class
Professional
N800,000 for a 1 Year class
Technical Class
Design Class
Production Class
Costing
Grading
Draping
Collection Creation
Short Courses
Sewing Class
N80,000 and 8 Weeks class
Pattern Making – Bodice
N100,000 and 6 Weeks of training
Pattern Making – Skirts & Trousers
N100,000 and 4 Weeks of training
KG School Of Fashion
KG School of Fashion is known widely as one of the best fashion schools in Lagos because specializes in the arts of Fashion in the areas of Pattern drafting, designing, measuring, conceptualizing, and illustration. ​​
Giving our students exposure that blends the western fashion styles with our own kind of African fashion style.
COURSES
– Sewing Technique
– Pattern Drafting
– Fashion CAD
– Styling and photography
– Fashion Illustration
– Fashion Business
​DURATION – 1year
TUITION: N530 000 (training materials non-inclusive)Generally prices range from N60,000 to N530,000.
TIME : 9am- 3pm ( mon – fri )
The complete course outline in Pattern Making And Sewing Techniques is divided into 2 classes, namely, BASIC and ADVANCED classes. kindly visit the school website to get more info.
Address: is in one of the local governments in Lagos; 2, Carter Street, off Muritala Muhammed way, Ebute – meta, Yaba, Lagos.
Phone number: 08022117421.
E-mail: [email protected].
Other Affordable Fashion Schools In Lagos
Below is a list of another affordable fashion school in Lagos;
Silk & Silver Fashion Institute
Kola B/Stop, 14, Kokumo Estate, Off, Nureni Yusuf Dr, Alagbado 100215, Lagos
Classic Threads Fashion Institute
No 21 Sunday Akinbo St, Alagbado, Lagos
Kilometer 38, Lagos/Abeokuta Expressway, beside Acces bank plc, Joju Bustop, 112212, Lagos
Tunexboiz Fashion Institute
Shop No. 23, Powa Shopping Complex, Obalende, Mashalashi Rd, Lagos
Vonne Fashion Clothes & Sewing Classes
No 29 Bode Thomas Street, Surulere, Lagos
No 80 Olatunji St, Ojota 234101, Lagos
No 19 Owutu-Isawo Rd, Agric, Ikorodu
D-YOUNG WASE Fashion Materials
No 23, Kofo Abayomi Victoria Island, Lagos
No 128 Ikotun, Idimu Rd, Lagos
Foresight Institute Of Fashion Design & Tailoring
1st Floor, 113 Allen Ave, opposite Alade Market, Ikeja, Lagos
No 1 Owdawun Akinyemi Street, Iju, Akute, Lagos
No 16 Lishabi Street, Somolu, Lagos
No 13 Fatimo St, Ikotun 300001, Lagos
No 10 Bola Ademuyiwa Street off Osolo way, Aswani Market, Isolo, Lagos
Lagos, No 58 Agungi Ajiran Rd, Agungi, Lekki,
No 102, New Ipaja Road Alimosho, Iyana Ipaja, 100275, Lagos
No 9, Taiwo Jowosimi close Off Ogbomosho Street, Off Ojokoro Rd, Eyita, Ikorodu, Lagos
Grace Godfrey Fashion Design School
Adekunbi Crescent, Off Bisi Ogabi Ave. Allen Avenue, Allen, Ikeja, Lagos
Tolumi TFP Fashion School, Lagos
34 Ajao Street, Off Ogunlana Dr, Surulere 101283, Lagos
Mechanic Village, 20 Owutu-Isawo Rd, Agric, Ikorodu, Lagos
Kubis Creation Fashion School
No 19 Obafalabi St, Ojodu, Ikeja, Lagos
LegsApparel Fashion School
Plot 18 Osamudiamen Otabor Cresent, Idado 101001, Lekki, Lagos
Simbels Clothiers & Fashion
No 42 Igando Rd, Ikotun, Lagos
List Fashion Schools In Lagos With Accommodation
Due to the bustling and large population in Lagos, getting a fashion school with accommodation is quite difficult.
If you have been searching for them, Below is a list of some of the fashion schools that opted to provide accommodation for students.
Zaris Fashion and Style Academy
Hadazzah Styles and Stitches
Valisimo Fashion School
Klassic Fashion Design Academy
FAQ On Fashion Schools In Lagos
Below are frequently asked questions on fashion schools in Lagos;
How Much Does It Cost To Study Fashion In Lagos?
The price dependent on the school of your choice. Go through our article and get the cost to study in Top Best Fashions Shools In Lagos.
What Subjects Are needed For Fashion Designing?
Here are the major subjects needed for Fashion Designing:
Pattern Making & Garment Construction.
Fashion Illustration.
Elements of Fashion & Design.
Fashion Ornamentation.
Fashion Management and Merchandising.
Computer-Aided Designing (CAD)
Fashion Marketing.
Clothing Culture and Communication.
Where Can I Study Fashion Design In Nigeria?
Below is our list of most recommended fashion schools in Lagos;
Fashion and Art Academy
Zaris Fashion And Style Academy
GYMT Fashion Academy
Rhoda Michael Fashion Academy
Hadazzah Styles And Stitches
Martwayne Fashion School
Valismo Fashion School
Ginani Fashion Academy
KG School Of Fashion
Summary
Fashion design is a rewarding career that allows you to create clothes and accessories.
There are many fashion schools in Lagos Nigeria for you to choose from. Moreover, you should not forget to take the necessary precautionary steps before choosing a fashion school.
Do not forget to ask us any question you have and also write your opinions in the comment section.