Would you like to learn easy ways how to transfer airtime on MTN for the first time to MTN number, GLO, Airtel, and 9Mobile in Nigeria?
If that's a yes, you've found the right source.
We'll show you how to send or share airtime from your account balance to other networks easily and for free.
QUICK ANSWER
To transfer airtime on MTN dial *600*Phone number*Amount*Pin#
Therefore, you'll be able to send airtime to someone using USSD, text message, and app whether you're on MTN Pulse, MTN TalkOn, MTN TruTalk, MTN XtraSpecial, XtraValue, or MTN BetaTalk tariff plan.
How Does Airtime Transfer Work?
Basically, all networks in Nigeria support the transfer of airtime to enable their subscribers to share or sell their airtime.
This means that if you're using MTN, you can share/sell part or all of your airtime with/to family and friends.
Read Also: How to Check Airtel Data Balance
Let's take the share feature for instance, you won't have to recharge from scratch just to credit your account but share a certain percentage of what you have.
But that's not all!
Here are other benefits of airtime transfer on mobile networks:
1. Helps in Emergency:
Imagine that you've got a family or friend who is in dire need of help but they don't have any airtime to call for help.
They're also unable to recharge from their bank app or USSD due to poor network.
In such cases, you can still be of great help to them by sending them some loaded airtime.
You won't have to even set foot outdoors to recharge but send what you already have to them.
2. Make Money:
What happens if you've won thousands of Naira in a giveaway and there's no way to convert this airtime to cash?
Then the next course of action would be to sell the airtime using the MTN Share 'N' Sell service (this time around you'll be using the selling feature).
We could paint another scenario where you mistakenly add more zeros to the airtime you wanted to buy using your bank app.
Such airtime could easily be sold to others to get back your money.
Therefore, good knowledge of how to transfer airtime for MTN users and even other network subscribers is important.
3. Share the Love:
You'll like to show your partner you care by gifting them some airtime but it's not really convenient for you to step out at the moment.
You don't also want to make extra expenses by diving into your savings.
Whichever is the case, transferring airtime to them would be a good solution.
Now that you know why you need to learn how to transfer airtime on MTN sim, let's show you how it's done.
How to Transfer Airtime Using MTN Share and Sell Service
MTN offers a share and sell service (MTN share) which is what you'll use in transferring airtime to new and existing prepaid and postpaid customers.
You need to do the following:
Create a share and sell pin
Use the USSD code to make the transfer
Let's break each element down.
The USSD code for transferring airtime on MTN is *600#
But before you transfer airtime for the first time, you need to register/create your share and sell pin.
This pin is a four-digit number that is used to verify the transaction.
Airtime cannot be transferred from your account without this pin.
That being said, do the following to create a share and sell pin on MTN:
Dial *600*0000*YOUR NEW PIN*YOUR NEW PIN#
Note that 0000 in the code above is MTN's default pin for airtime transfer.
Therefore, if you'll like your pin to be 7899, the code you'll dial is *600*0000*7899*7899#
It's that simple!
You can send at least ₦50 and a maximum of ₦5,000 per transaction, however, there is no limit to the number of times you can transfer in a day.
So, what's the next step?
Read on to find out!
1. Transfer Airtime on MTN Via USSD:
Now that you have created your share and sell pin, it's time to make a transfer.
To do this:
Dial *600*Phone number*Amount*Pin#
For example, if you want to send 500 Naira airtime to a friend whose number is 0703102XXXX, the code you'll dial will be:
*600*0703102XXXX*500*7899#
Read Also: Glo Data Plan – How to Activate, Transfer, and Opt Out
Note that the phone number and PIN in the code above is to be replaced with the person's phone number you're sending to and your own private share and sell pin.
If you forget the code above, simply dial *600# and follow the prompt to create a pin and make a transfer.
2. Transfer Airtime on MTN Via Message:
There are occasions when you'd rather type a text message than dial a USSD code.
When that happens, you could message MTN to send your airtime to another user on the same network.
Accordingly, here's how to transfer airtime on MTN via message:
Enter as a message Default pin, your new pin, your new pin
Send the message to 777
For example 0000, 7899, 7899
When you're ready to make a transfer, do the following:
Type Transfer, Recipient's Number, Amount and PIN
Send the message to 777
A text message will be sent to you to confirm that you want to move some airtime. All you have to do is reply with YES. Send your response to 777.
For example Transfer, 07031029XXX, 200, 7899
That's all!
3. Transfer Airtime on MTN Using App:
Tired of memorizing USSD codes or writing them on your notepad, then you don't have to add one more to the lot you may already have.
That's why we'll show you how to transfer airtime on MTN to an MTN number using the mobile app.
You'll be using the official MTN mobile application which supports Android (Infinix, Samsung, Xiaomi, Tecno, Huawei, Gionee, Oppo, etc.) and iOS devices (iPhone 8, X, 11, 11 Pro, 12, 12 Pro Max, iPad, etc.).
Also, if you'll like to share airtime in Rwanda, South Sudan, Uganda, Ghana, Cameroon, and Mali, as with other African countries, this method of using the MTN app is ideal.
To begin, do the following:
Download the MTN app from the Google Play store or Apple store
Install the app and input your location
Enter your phone number and click on 'proceed'
A one-time password (OTP) will be sent to your phone number. The OTP will automatically load into the second field on the app but if it doesn't manually type it.
Now you're ready to start using the MTN app.
Next, click on the 'Recharge' menu at the bottom part of the app.
Click on the 'Share' button
Enter the recipient's phone number, your share and sell PIN, and the amount you want to send.
Click on 'proceed'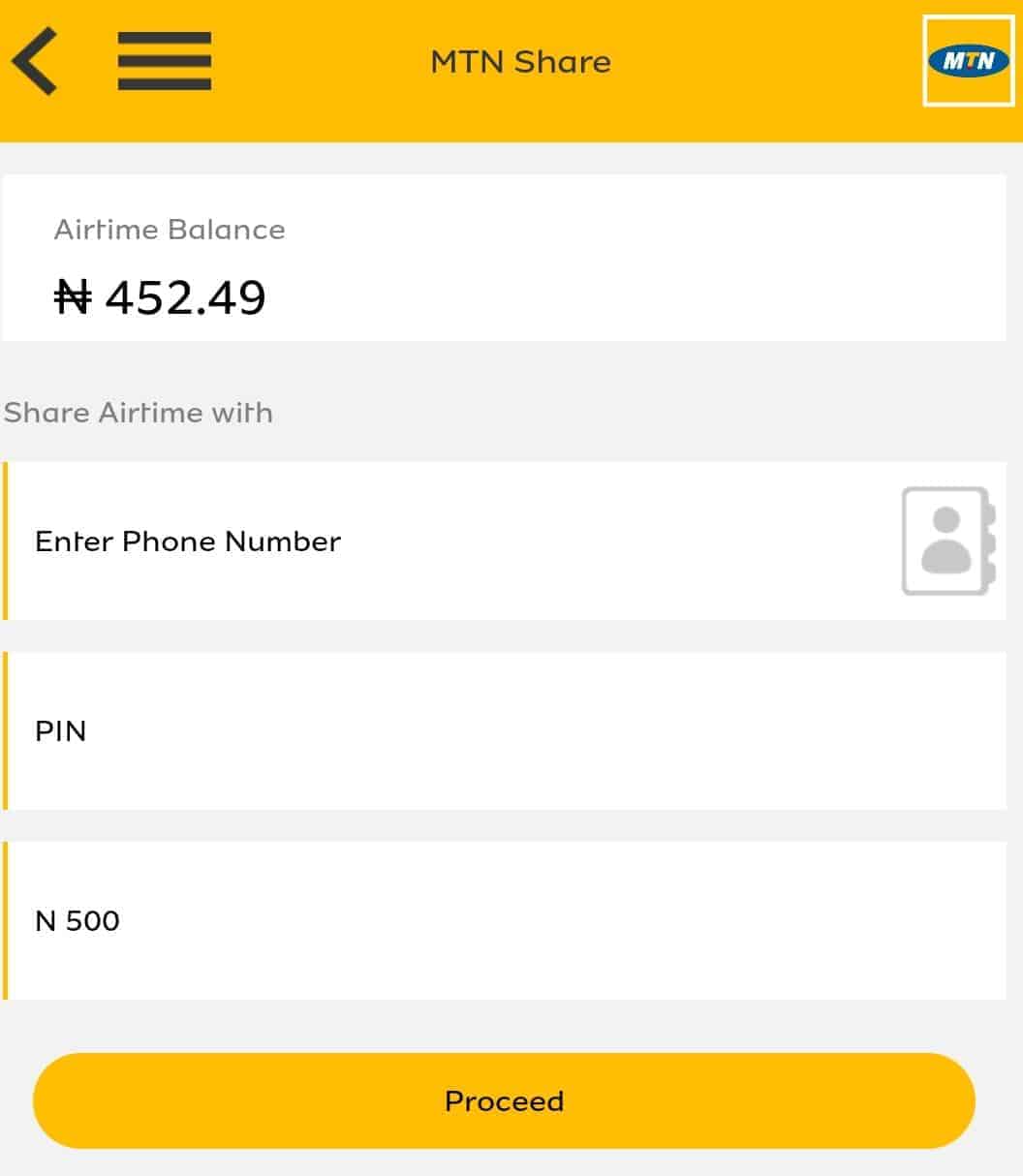 If you have enough airtime in your account to cover the amount you've inputted, the transfer will be made successfully.
How to Reset Airtime Transfer Pin On Mtn
What happens if someone else knows your PIN and you'll like to change it to ensure they do not transfer airtime from your phone without permission?
You most certainly can!
So, here's how to reset the airtime transfer pin on mtn:
Dial *600*Your Old Pin*Your New Pin*Your New Pin#
This means your dialed code will look like this:
*600*7899*2222*2222#
How to Transfer MTN Airtime to Bank Account
Looking for an easy way to transfer your MTN airtime to a bank account?
There's a solution but not a direct approach.
You'll have to sell your airtime to third-party platforms that give you almost the equivalent you've sold for a fee.
You can sell airtime for cash using platforms like Aimtoget and Singtel.
These platforms have their official app on the Google Play store, hence, download, register, and convert to cash.
Conclusion
You've learned how to transfer airtime on MTN to other networks and also create a pin to share or sell airtime, so go ahead and do it.
Three methods have been provided in this tutorial to ensure you choose one that saves you time.
You can use the USSD code or mobile app to process your transaction anywhere and anytime.