MOJEC prepaid meter problems are different for most individuals. No matter how good the MOJEC prepaid meter is it must be faced with some difficulties.
MOJEC prepaid meter problems will always develop since the MOJEC meter is a machine and is not 100% efficient.
MOJEC is a meter company that has been in existence for over 20 years now. They are licensed to distribute meters all over Nigeria.
With MOJEC prepaid meter you will be charged with only what you use. Is that not wonderful? This technology does not in any form permit estimated billing by the former PHCN method of payment of bills.
The MOJEC prepaid meter is commonly used by Nigerian Electricity distribution companies (DISCOs).
This article will answer your question as a customer who has difficulty in troubleshooting and whose MOJEC prepaid meter problem is causing a lot of inconvenience to the household.
How To Install MOJEC Prepaid Meter
You cannot have MOJEC prepaid meter problems if you have not installed your prepaid meter.
Here in this chapter, we will give you a step-by-step guide on how to install your MOJEC prepaid meter.
If you are in possession of your MOJEC prepaid meter,  key in the meter number and hit enter. After some time your meter will show successful then proceed
Accept that you have loaded your MOJEC meter with the right activation code
Within 72 hours a text will be sent to you through the mobile number you registered with, telling you that installation was successful.
How To Activate/Load MOJEC Prepaid Meter
To activate the MOJEC prepaid meter, the following steps should be paid close attention to:
After getting your activation code on your phone, enter the first 20 digits of your activation token and hit the enter button on the MOJEC meter
Wait to see success
Then proceed to input the next 20 digits of your activation code, hit enter, and wait to be successful
Proceed to buy your power units and energy.
You can manually activate your MOJEC prepaid meter if you didn't get a text or email containing your MOJEC activation code.
Input http://ie-payments.com/apps/   on your URL
Type in your Mojec meter number and click the submit button
Immediately you will see your activation token displayed. It won't be displayed if your meter does not need activation.
How To Recharge The Meter Using The 20 Digits Recharge Codes
This is one of the MOJEC prepaid meter problems that we face. Not knowing how to recharge our prepaid meter for the first time.
Here are simple steps to follow:
Make sure the control box is connected to a power source or an external battery is inserted into the prepaid meter to avoid power failure.
Once the meter box is plugged in, enter your 20 digits recharge activation code.
If you make a mistake while typing, simply hit the 'red button' but if correct hit the 'green button' which is enter
The screen of the meter will display 'ACCEPT' if your recharge activation code was input correctly.
If it displayed 'REJECT' that means your activation code is incorrect or there is an error. Input the code and try again
MOJEC Customer Care Contact
One of the most important ways of solving MOJEC prepaid meter problems is by having the MOJEC customer care contact handy.
The MOJEC meter customer care can be contacted through the following means:
Lagos Office
244/246 Apapa Oshodi Expressway, Lagos, Nigeria
Tel: 014537736, 08174589132
Abuja Office
Plot 1335 Close Alexandra Crescent Off Mallam Aminu  Kano Crescent, Zone A7 Wuse 11, Abuja, FCT
Phone: 08174589132 and 014538015
You can as well email your MOJEC prepaid meter problems for answers to their  customer care via [email protected]
MOJEC Prepaid Meter Problems
There are a lot of problems you are likely to encounter as a MOJEC prepaid meter owner. Most of these problems will be solved if you follow our step-by-step guide.
 1. MOJEC Prepaid Meter Error Codes
Some of these are errors that you will encounter on your prepaid meter and their meaning:
Error 6:  If you see this it means you are either using the wrong key or that the meter has stopped working. To resolve this you have to contact the customer care online by calling or visiting a MOJEC office.
Error 1: This means the meter RAM is having issues.
Error 2: This literally means meter EEPROM failure
Error 3: Power supply diode failure
Error 10 or REJECTED Token: This means the wrong meter number or wrong corrupt contact on key
Error 12: This means key pass error
2. MOJEC Prepaid Meter Problem Tamper Mode
I know many have a lot of questions about this tamper mode. We will make sure to answer them one after the other.
What Is Meter Tamper Mode?
Tampering mode is a situation whereby the meter is unable to supply power, voltage, or current due to some reasons we will be tackling below.
How Will I Know When My Meter Enters Tamperin Mode?
The most simple way to detect when your meter enters tampering mode is when it cannot supply power to the premises.
READ ALSO: PEACE MASS TRANSIT
What Makes Meters Enter Tamper Mode?
They go into tamper mode cause of the following reasons:
Open meter cover
Unapproved interference with the meter
Sparks from wrong connections
Faulty electrical wiring from the electrician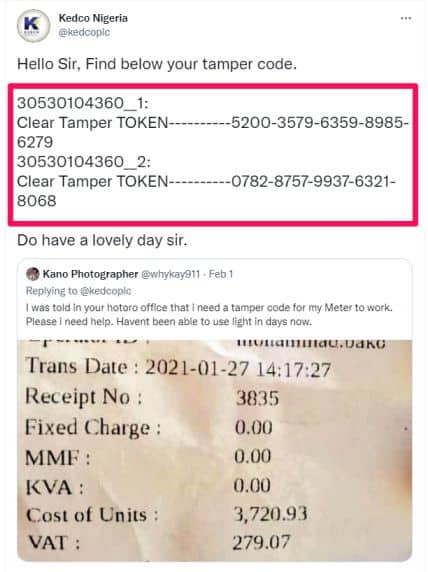 How To Remove Prepaid Meters From Tamper Mode 
Tamper mode is one of the most common issues with MOJEC prepaid meter problems is tamper code. You can stay in your house and have a power outage due to tamper mode.
The best way to solve this problem is by contacting MOJEC customer service.
3. MOJEC Prepaid Meter Problem Alarm
Another problem with the MOJEC prepaid meter is the beeping sound of the alarm. Many will be asking questions like 'How can I stop the beeping sound coming from my prepaid meter?'.
Simply dial 042 on your prepaid meter and hit enter, and the beeping sound will seize.
4. Why Is My Prepaid Meter Rejecting Token?
The reasons your prepaid meter is rejected might be due to:
Wrong Meter Number
When the meter number is wrong, the meter will definitely reject the number. If your meter number is wrong then you have to contact customer care to correct it.
Improper Connection
One other MOJEC meter problem you might have if your meter is rejecting a token is an improper connection. Take note of your meter number and other details then contact your Electric distribution company.
Wrong Token
This might be due to the purchase of an invalid token. buy a new token, input it, if it is accepted file a complaint to the customer service for the purchase of an invalid token.
Smart Card
Make sure to wipe your card with a clean cloth then insert it again.
Inactivated Meter
If your meter is not activated you will need to activate it to avoid some of these MOJEC prepaid meter problems.
MOJEC Prepaid Meter Reset Code In Nigeria
If you have tried all you can and you are still having issues with the MOJECprepaid meter, then you might want to opt-in to reset your meter.
Here are simple steps to guide you:
Press 990, then hit Enter.
Press 0000, then Enter, and the response "Good" will be displayed.
Press 999, then Enter. You should see "Reset".
Disconnect the plug from the CIU, and plug again.
Input the activation token again and it will load again from the beginning.
FAQ
Why Is My Prepaid Meter Not Connecting?
This might be due to a disconnection between your meter token gadget and the sub-power transmitter adapter connected to it.
Why Is My Prepaid Meter Not Supplying Power?
If your prepaid meter is not supplying power it might be due to Tamper mode. Read our article carefully and you will know more about tamper mode.
What Is Key Change Token?
The Key Change token (KCT) is a group of 2 sets of numbers (often 20 each) that are loaded into a prepaid meter when it is not accepting electricity tokens.
Why Is My Prepaid Meter Off?
This can happen during the day or at night. This is a result of your token being exhausted.
Conclusion
These days it is typical to have token problems, activation problems, tamper mode problems, and the likes of it on your MOJEC prepaid meter.
MOJEC prepaid meter problems cannot be whipped away entirely because the meter is a machine that is not 100 % efficient.
But with our article above, I know you will be able to solve most of the MOJEC-related problems. Let us know if you were successful in the comment section and ask questions that are not clear.