Whether you are looking for hot tub landscaping ideas on a budget, hot tub landscaping design ideas, or backyard hot tub privacy ideas then you are at the right place because we have got it all for you.
Do you know you can get a standout hot tub with a low budget by just being creative? We have everything you need in getting inspiration for a nice hot tub view.
Every backyard needs a "WOW" piece. And a hot tub with distinctive elements will help do the trick.
We all need a place to escape and relax after the day's stressful activities. The size and space of your hot tub all lie on the kind of environment you want to place it and the kind of activities that will take place there.
But in all, the budget-friendly hot tub landscaping ideas we have listed below will be suitable for anything you choose.
Check out: Small pool ideas on a budget
Hot Tub Landscaping Ideas On A Budget
After purchasing your hot tub, landscaping the area is the next thing to do. Although, you can just place your hot tub and leave it there without adding anything to the surroundings.
But that won't get you that creative and unique look you want. With our hot tub landscaping ideas on the budget below, you are sure to get the perfect hot tub for your backyard.
Add Plant And Trees Around
To get a breath of fresh air and relax well In your backyard, you will need to add live plants around your hot tub.
Create beautiful flower beds that can be in view from the hot tub, and you will always have pleasant scenery. Go for wild colors of plants to get a tropical feel.
You should pick plants that can live in the habitat area. If these plants are native to the area, they will not need much care to survive throughout the year.
Create A Lounge
A nice way to give your hot tub nice landscaping is by adding a longe around it.  This will create a space that will reduce the concentration on your hot tub where one can also relax.
You can add plush, comfortable lounge chairs, patio furniture, and shade structures that will create a comfortable outdoor space.
If you have old furniture and don't know how to make them fit, no need to worry too much. Buy paints that have some color or similar color to your deck and use them to paint your old furniture.
With a lounge and hot tub present in your backyard, you will find more reasons to be outside your backyard.
Add Some Shade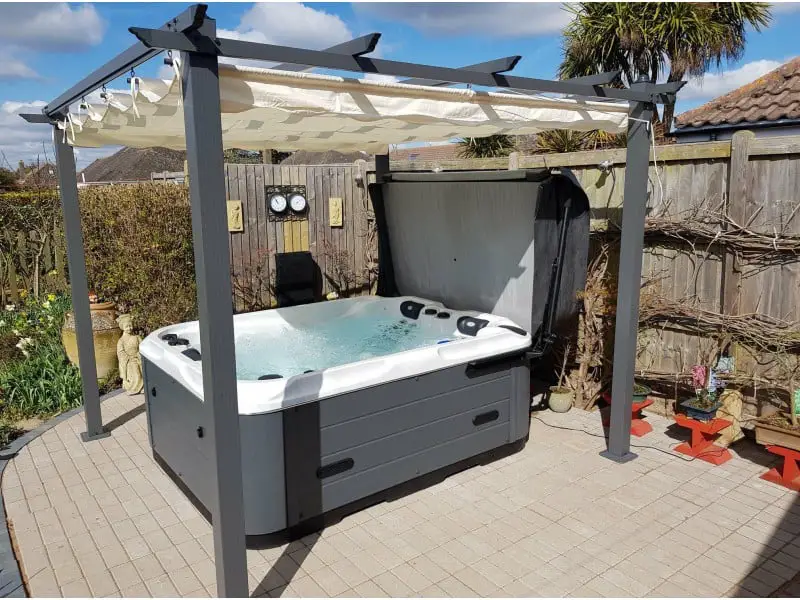 Adding shade to your hot tub does not just protect your hot tube but also integrates your hot tub into your yard.
You can install shade sails, pop-up canopies, sleek pergola, pull-out shades, or any other one that suits your style.
Add Stylish Accessories
One of the best ways to landscape your hot tub to get a classy look is by adding unique accessories.
You can equip your hot tub with a lavish bar. Adding a bar to your backyard does not only give your guest a place to stay when they come to visit but also a drink to relax with.
And it can be used as an entertaining space when you are having a party. You can even add small spa steps to add more taste to it.
Add Fire Pit 
Another hot tub landscaping idea on a budget that gives you a cozy ambiance is adding a fire pit. A fire pit is available in all price ranges and styles to meet any budget.
To get a more contemporary feel, go for the modern fire pit.
Add Decks 
Deck your hot tub for a more reliable landscaping option. Your deck design should look great and should have colors that match the hot tub.
Even as you want your hot tub deck to look great, you should also use the right materials and not make mistakes.
You should create space for tech support, add water-resistant materials, and provide space for drainage.
Add Walls
You can wall off your hot tube to get a more contemporary look. It can be quite creeping while you are relaxing in your hot tub and feeling your neighbors watching you.
Consider using large shrubs, trees, large boulders, a rough-hewn brick barrier, hardwood, Bamboo slatted fence, or even a wall to keep your hot tub private.
FAQ On Hot Tub Landscaping Ideas On A Budget
Below are some of the frequently asked questions on hot tub landscaping ideas on a budget and their answers;
What Can I Put On The Ground Around My Hot Tub?
Gravel is an excellent choice for a hot tub base. It's relatively cost-effective and easy to install, plus it's very good for drainage.
This is important because you need to make sure any rainwater or overspill from your hot tub is able to drain away from the base. And unlike concrete, gravel won't crack over time.
How Can I Make My Hot Tub More Attractive?
Below are some of the tips that will make your hot tub more attractive in your backyard;
Choose the right placement.
Build a hot tub gazebo.
Place plants up to the edge.
Use walls to conceal.
Enhance the area with accessories.
Cup holders to keep your drinks close by.
How Do I Prepare An Area For A Hot Tub?
The area where it will be placed should be leveled and a foundation prepared. A hot tub should not be placed on soil.
Instead, it will need a concrete base, a crushed stone or pea gravel base, pavers, or a deck with adequate structural support.
Conclusion
No matter the kind of hot tub you want our hot tub landscaping ideas on a budget will give you a backyard that you will be proud of.
Here there is an idea that will be suitable for every budget or any other hot tub landscape design you have in mind.
Just pick anyone that will be okay with your budget and you won't be disappointed.